Tom Dwan Finishes Up $68,000 To Beat "Ziigmund" in "durrrr" Million Dollar Challenge
Published on November 18th, 2009 9:50 pm EST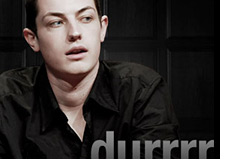 Play has just wrapped in the second day of the "durrrr" Million Dollar Challenge.
Tom "durrrr" Dwan and Ilari "Ziigmund" Sahamies battled today in a live version of the "durrrr Challenge", with Dwan emerging as a $68k winner.
The two players battled it out in Pot Limit Omaha, with each player initially buying in for $250,000. The blinds started at $500/$1,000, and increased to as high as $2,000/$4,000. Each player also decided to rebuy once, meaning that there was about a million dollars on the table by the end of the night.
Dwan was down around $150k near the end of the session, but managed to win a large pot in one of the last hands to surge ahead for the day.
The hand played out like this:
With the board reading 3h-Kd-Kh-8h, "Ziigmund" bet and Dwan called.
The river brought the 5d. "Ziigmund" bet 60k, Dwan raised to $194k and "Ziigmund" called.
Dwan showed:
Kc-Jc-8c-7h for a full house, Kings full of Eights
"Ziigmund" showed:
Ac-Ks-7c-3d for trip Kings
--
Dwan, fresh off of his battle against "Isildur1" last evening, was apparently exhausted (not a surprise) and needed a constant supply of Red Bulls to keep playing.
Yesterday, Tom "durrrr" Dwan battled Marcello "luckexpress" Marigliano on the first day of the "durrrr" Million Dollar Challenge. The match involved both NLHE and PLO, with "luckexpress" managing to emerge as a $22k winner.
The third (and final) day of the challenge will take place tomorrow, when Dwan and Sammy "Any Two" George battle it out in a heads-up, No Limit Hold'em match.
As with the other matches in the "durrrr" Million Dollar Challenge, neither player will be allowed to leave until 500 hands have been played or one of the players is broke.
For a full recap of the battle today between "durrrr" and "Ziigmund", visit the
Matchroom Poker Forums here.
All three of these matches will be shown on Sky Sports sometime in 2010.
--
Filed Under:
Cash Games
|
Poker on Television