Patrik Antonius Wins $1.35 Million Dollar Pot Against "Isildur1"
Published on November 21st, 2009 10:46 pm EST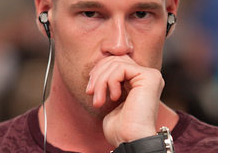 Patrik Antonius just won the largest ever pot in online poker history a few minutes ago - a $1,356,946.50 monster against "Isildur1" on Full Tilt Poker.
This pot didn't just beat the previous record for the largest ever online poker cash game pot - it obliterated it.
Prior to the epic hand taking place, "Isildur1" had about $678k in his stack, while Antonius had about $1.26 million. The game was $500/$1000 Pot Limit Omaha.
"Isildur1" had the button and raised to $3,000. Antonius stuck in a re-raise, and the two were soon involved in a pre-flop raising war. By the time that the two players saw a flop, there was already over $160k in the pot.
The flop came:
4s-5c-2h
Antonius led out with a bet of $91,000. "Isildur1" re-raised to $435,000, Antonius made it $779,000, and "Isildur1" called all-in.
Antonius showed:
Ah-3s-Ks-Kh for a five-high straight, a pair of Kings and two back-door flush draws.
"Isildur1" showed:
6d-9s-7d-8h for a wrap straight draw.
The turn brought the 5h, moving Antonius even further ahead in the hand.
The river brought the 9c, and Antonius was shipped the massive $1.35 million dollar pot with his five-high straight.
--
As if that wasn't enough, Antonius won an $800k pot a short time later.
The board read 4h-9d-6h-6c when the two players got the rest of their stacks into the middle of the table.
"Isildur1" showed Ad-Kc-2c-Kd for Kings and Sixes, while Antonius showed 9h-8s-7d-10h for Nines and Sixes, as well as an open-ended straight draw.
The river brought the 8c, giving Antonius the ten-high straight and the $810k pot.
--
Patrik Antonius is currently lording over a $2.4 million dollar stack right now. In addition, he also has two $800k+ stacks on two other tables.
Not only that, but "Isildur1" is also playing Phil Ivey at the same time, and Ivey currently has a $1.3 million dollar stack, as well as a $706k stack. Sick.
According to Highstakesdb.com, Patrik Antonius is currently up $2.3 million on the day, while Phil Ivey is up $1.02 million.
"Isildur1", according to the site, is down about $2.6 million dollars.
Unbelievable. Are Patrik Antonius and Phil Ivey going to end the incredible run of "Isildur1" today?
Source:
HighStakesDB.com
Photo: GreasieWheels.com
--
Filed Under:
Cash Games