Di Dang, Richard Ashby Lead January High Stakes Poker Action
Published on January 10th, 2010 12:33 am EST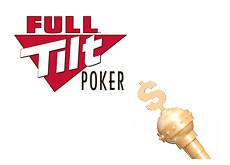 With the 2010 Pokerstars Caribbean Adventure (PCA) currently taking place, many of poker's top names have been largely absent from Full Tilt Poker in January.
Names such as Phil Ivey and Tom "durrrr" Dwan have been focusing more on the 2010 PCA main event and the cash games taking place at the event, rather than spending their time on the high stakes cash game tables on Full Tilt Poker. Because of that, the high stakes games on FTP haven't been running very much in January.
Of the players who have been playing on Full Tilt Poker in January, Di "Urindanger" Dang has done the best so far.
After 11,320 tracked hands, "Urindanger" is currently up about $447,000 after the first eight days of the month.
The second most profitable player in January, Richard Ashby (formerly playing as "CHUFTY" on the site), is currently up about $221k after 6,339 tracked hands.
The list of the top five most profitable players on the site in January (so far) is rounded out by Brian Hastings (+$220,000), "PixKim" (+$215,000) and Gus Hansen (+$165,000). Hansen has finally returned to the list of the most profitable cash game players on Full Tilt Poker after spending almost all of 2009 in the red.
--
John D'Agostino has had the worst start to January of any player on Full Tilt Poker so far, dropping an estimated $255k over just 2,239 tracked hands. D'Agostino doesn't appear on these lists too often anymore, and he can't be happy to have the biggest loss of any single player to start 2010.
"bixiu" (-$237,000), "FinnishNightmre" (-$200,000), "geoff7878" (-$175,000) and "howisitfeellike" (-$158,000) round out the list of the biggest losers in January.
"Browndog19", "PostFlopAction" and Eli Elezra have also dropped in excess of six figures to start the new year.
--
It should be interesting to see how often the high stakes games on Full Tilt Poker run in 2010.
In 2009, the brief appearances of "martonas" and "Isildur1" on the site completely re-energized the high stakes cash games and provided plenty of action.
Who will be the players that drive the action in 2010? In past years, we've had Guy Laliberte, "martonas" and "Isildur1" - will somebody new emerge in 2010, or will the high stakes action dry up a bit this year?
Source:
HighStakesDB.com
--
Filed Under:
Cash Games