"Durrrr Challenge" Nearly One Year Old
Published on February 1st, 2010 1:08 am EST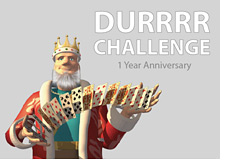 In early 2009, Tom Dwan had everyone talking when he officially issued his "durrrr Challenge".
The basic premise of the challenge?
-four tables of heads-up NLHE or PLO at a time (at a minimum of $200/$400)
-50,000 hands minimum
-if Dwan was up at least a dollar after the 50,000 hands were completed, then his opponent would have to pay him $500,000. If Dwan was down at least a dollar after the 50,000 hands were completed, then "durrrr" would have to ship his opponent $1.5 million dollars
There were a few other stipulations, but that was the general idea of the challenge.
On a January 6th, 2009 edition of "Tuesdays with Ivey" on Pokerroad.com, Phil Ivey officially announced that he had accepted the challenge. He also revealed that David Benyamine and Patrik Antonius had also accepted.
It was originally thought that David Benyamine would get the first shot at Dwan. However, it was soon announced that Patrik Antonius would be up first.
After weeks of anticipation and build-up, Dwan and Antonius finally started the challenge in February of '09. Full Tilt Poker got in on the hype, creating eight special tables just for the challenge, as well as promoting the match on their site.
The first session got underway in mid-February of 2009, with Dwan winning about $134k over a 1,541 hand session.
People who were thinking that the two players would finish the challenge in just a few months were in for a surprise. Play became more and more sporadic, with Dwan and Antonius going weeks, even months at a time without playing a single hand.
So, nearly a year into the challenge, Dwan and Antonius have completed 31,912 of 50,000 hands. "durrrr" is currently up about $1.077 million dollars, having slowly built up his lead over the past 8,500 hands or so.
If Dwan and Antonius continue playing at their current pace, then the challenge should wrap up in mid-August or so.
There is no word yet as to whether or not Phil Ivey will take on Tom Dwan next.
--
Filed Under:
Cash Games