Phil Hellmuth Goes Broke, Phil Ivey Dominates In First "High Stakes Poker" Episode of Season 6
Published on February 15th, 2010 12:04 pm EST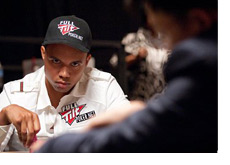 The highly-anticipated season six premiere of High Stakes Poker was aired Sunday evening on GSN.
The show made some changes this year, including removing A.J. Benza from the booth and replacing him with Kara Scott, who interviewed players after key hands to get their thoughts.
In addition, there were a few new segments, including "30 Seconds With Kara Scott" and "Did You Know"?
The first episode of season six started with this line-up of players:
Phil Hellmuth, Phil Ivey, Andreas Hoivold, Daniel Negreanu, Gus Hansen, Tom Dwan, Antonio Esfandiari, Dario Minieri
All of the players bought in for $200k, except for Tom Dwan and Phil Ivey, who both bought in for $500k.
Phil Ivey ended the first episode as the big winner, thanks to a couple of large pots that he won against Phil Hellmuth and Andreas Hoivold. By the time that the first episode had drawn to a close, Ivey was up over $330k.
The big loser in the first episode was Phil Hellmuth, who ended up busting about halfway through the show and leaving.
Phil Hellmuth lost a sizable amount of his stack in two early pots against Phil Ivey and Antonio Esfandiari.
First, Hellmuth decided to get into a pre-flop raising war with Phil Ivey. Hellmuth held A-J offsuit, while Ivey held pocket Queens.
Hellmuth was sure that Ivey was trying to move him off the hand, putting in a re-raise to $55k. Ivey pushed after a bit of thought, and Hellmuth was forced to reluctantly make the fold, sure that Ivey had a weak holding.
Shortly after that, Hellmuth lost a 105k pot to Antonio Esfandiari after both players hit a flush on a board of 7d-6s-5s-8s. Hellmuth held Ks-2s for a King-high flush, while Esfandiari held As-Qs for an Ace-high flush. Hellmuth just called Esfandiari's river bet, enabling himself to stay alive on the show for just a few more hands.
The end for Phil Hellmuth came in a hand against Phil Ivey. Hellmuth held Jh-5h, while Ivey held Kh-9h.
The flop came 6d-4h-7h. Ivey led out with a bet of 6k, Hellmuth raised to 26k and Ivey made the call.
The turn was the Kd. Hellmuth pushed (for about 80k) and Ivey made the call.
A "High Stakes Poker" graphic showed that Hellmuth only had six outs to win the hand (non-heart 8 or non-heart 3). Unfortunately for Hellmuth, the river brought the 10h, giving Ivey a King-high flush and the sizable pot. Hellmuth packed up and left at that point, electing not to buy in for another $200k.
In addition to his two hands with Hellmuth, Ivey was also able to win a couple of decent-sized pots after flopping a couple of sets.
In the last hand of the episode, Ivey flopped a set of Sixes after a flop of 4c-Ks-6c.
Andreas Hoivold, who held just a pair of fives, decided that it was time to make a move on Ivey, electing to raise it to $56,000 after Ivey had put in his own raise.
Ivey pushed all-in, forcing Hoivold to quickly fold his hand.
In the end, Ivey emerged from the first episode as the big winner (+$330k), while Phil Hellmuth was the big loser (-$200k).
Eli Elezra will join the game in next week's episode.
Photo: GreasieWheels
--
Filed Under:
Poker on Television