"Isildur1" Wins Over $732k In Just 24 Hours
Published on February 16th, 2010 6:58 pm EST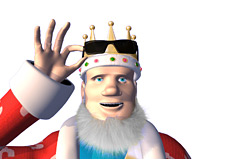 Those who have been hoping to see "Isildur1" return to the high stakes games on Full Tilt Poker got their wish earlier today.
"Isildur1", who has popped up sporadically on the site over the past couple of weeks, officially marked his return to FTP earlier today after getting into battles with both "ZeeJustin" and "Ziigmund".
By the time that "Isildur1" had finished his session, he was $732,753 richer.
According to HighStakesDB.com, "Isildur1" played a total of 5,809 hands over a 24 hour period, meaning that he was able to make approximately $126 per hand during that time.
Justin "ZeeJustin" Bonomo was on the receiving end of an "Isildur1" beatdown, dropping nearly $500k over 3,298 tracked hands.
"Isildur1" completely reinvigorated the high stakes games on Full Tilt Poker in late 2009, getting involved in some epic showdowns with the likes of Tom Dwan, Phil Ivey and Patrik Antonius during his incredible rollercoaster ride of a run.
After a massive upswing ($6 million plus) during the first half of November, "Isildur1" ended up giving it all back during high profile battles with Phil Ivey, Patrik Antonius and Brian Hastings.
Many people thought that Brian Hastings had finished "Isildur1" off after winning over $4 million from the mysterious Swedish player in just over 24 hours. Much to his credit, "Isildur1" has re-emerged after this beatdown, and is back to playing the very best players in the world.
I can't be alone in hoping that "Isildur1" makes another big run. He has been involved in a number of the biggest pots in the history of online poker, and clearly isn't afraid to play anyone. You just know that players like Phil Ivey and Patrik Antonius are dying to get another crack at him, which should result in some more entertaining battles.
I also can't be alone in hoping for another "durrrr" / "Isildur1" showdown. How eager will Dwan be to play against a player that relieved him of so much of his bankroll? Will Dwan be dying to exact his revenge, or will he avoid the player that caused him so much grief?
We'll soon find out..
Source:
HighStakesDB.com
--
Filed Under:
Cash Games