Ashton "TheASHMAN103" Griffin Takes Down NAPT Venetian $25,000 Bounty Shootout
Published on February 26th, 2010 5:53 am EST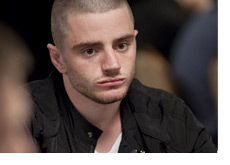 After nearly 12 hours of play at the final table, Ashton Griffin eliminated Joe Cassidy in third place, setting up a heads up battle between Griffin and Hoyt Corkins for the title.
Many in attendance were settling in for a long heads up battle between the two players, as both had extremely deep stacks.
However, to the surprise of nearly everyone, the heads up battle between Corkins and Griffin only took two hands to finish.
After a flop of 4s-5d-9s, the two players got into a raising war, with Corkins calling an all-in bet from Griffin for the rest of his chips. The two players flipped over:
Corkins - 9h-3h
Griffin - 9d-8d
The turn and river helped neither player, and Griffin took down the tournament and the $460,000 first place prize.
The $100,000 prize for most bounties in the tournament went to Scott "Mastrblastr" Seiver, who ended up knocking a total of eight people out of the event. In addition to the $100,000 bonus, Seiver also received $5,000 for each person that he knocked out.
"TheASHMAN103" could barely keep his eyes open throughout the entirety of the final table, as he had apparently been up all night playing and was running on zero sleep. He was literally taking naps while the final table was being played, stretching out over a group of chairs to catch 15 minutes of sleep here and there. He somehow still managed to take down this grueling final table, even though he was sleep deprived and clearly hurting.
Here is how the final table finished out on Thursday:
1. Ashton "TheASHMAN103" Griffin
2. Hoyt Corkins
3. Joe Cassidy
4. Scott Seiver
5. Faraz Jaka
6. Brett Richey
7. Peter Eastgate
The final table featured a mix of tournament and cash game players, with Griffin, a well-known high stakes cash game player on Full Tilt Poker, eventually coming out on top.
The last 14 months have been absolutely phenomenal for Griffin.
In addition to winning the $25,000 Bounty Shootout, Griffin also captured the $25,000 Heads-Up Championship on Full Tilt Poker in May of 2009. On the cash game tables Griffin has fared even better, winning over $4 million on Full Tilt Poker since the beginning of 2009. Not bad for a player who had a bankroll of just $784 in August of 2007.
Photo: GreasieWheels.com
--
Filed Under:
Tournament Results