"Isildur1" Steamrolls Competition on Full Tilt Poker
Published on March 10th, 2010 3:41 am EST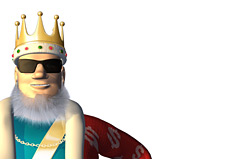 "Isildur1" is seemingly never involved in a boring session, and today was no different.
"Team Cardrunners" members Cole South and Brian Hastings lined up to do battle with the Swedish player on Tuesday, with both players suffering losses in excess of $500k.
"Isildur1" started off his day by taking nearly $800k from Cole South over a nearly 2400 hand session.
A short while later, "Isildur1" and Brian Hastings squared off in a rematch of their epic battle from late 2009. In case you were living under a rock at that time, Brian Hastings torched "Isildur1" for over $4 million in a single 24 hour period in December. Many people figured that this was the end of the "Isildur1" run on Full Tilt Poker, and that the Brian Hastings beating was the final nail in the coffin.
However, this wasn't the case, and "Isildur1" has been able to exact a bit of revenge on Hastings in 2010. "Isildur1" managed to win a total of $550k+ from Hastings in their Tuesday session before the game broke up.
Thanks to a very strong run over the past few days, "Isildur1" is now one of the biggest winners on Full Tilt Poker in March. The final numbers haven't been tabulated as of yet, but I'm pretty sure that "Isildur1" is up over $2 million on FTP this month.
Many people have been rooting for "Isildur1" over the past few days. If his bankroll continues to recover, then the high stakes games on Full Tilt Poker will be really good. "Isildur1" is extremely aggressive and will play anyone, and everyone seems to want to play with him. Personally, I hope that "Isildur1" goes on another massive run, as the "Isildur1" vs Ivey/Antonius/Dwan battles in November of '09 were unbelievable to watch.
I'm sure that "Isildur1" will be back on Full Tilt tomorrow, looking for another big game, and I'm sure that he'll find one.
Source:
HighStakesDB.com
--
Filed Under:
Cash Games