Phil "OMGClayAiken" Galfond Beats "Isildur1" For $1.6 Million
Published on March 11th, 2010 7:19 am EST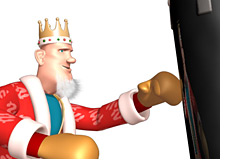 Railbirds were able to enjoy a special treat on Wednesday as "Isildur1" went head-to-head against two of the very best poker players in the world - Tom "durrrr" Dwan and Phil "OMGClayAiken" Galfond.
After taking about $1.4 million off of Cole South and Brian Hastings earlier this week, "Isildur1" was awash in cash and looking to continue his hot streak.
Tom "durrrr" Dwan stepped up to face his arch-nemesis first. As you are surely aware, Dwan was taken apart by "Isildur1" during a number of battles in November of 2009. "Isildur1" quickly rose to prominence thanks to these battles with "durrrr", as he managed to take millions of dollars off of Dwan during the first few weeks of November.
Dwan, as we talked about on PokerKingblog.com, was able to exact a bit of revenge during Wednesday's session, taking over $900k from "Isildur1" in less than 1,000 hands.
After the game with Dwan broke, "Isildur1" went looking for another opponent and found one in Justin "Zeejustin" Bonomo. "Isildur1" was able to win back some of the money that he lost to Dwan during the session, taking about $400k off of "Zeejustin".
"Isildur1", who is an absolute machine, decided to try his luck against Phil "OMGClayAiken" Galfond after the game with "Zeejustin" broke.
Galfond, who hasn't put in that much volume on Full Tilt Poker so far this year, destroyed "Isildur1" during their lengthy session. When the smoke had cleared and the game had broken, "OMGClayAiken" was up over $1.6 million on the day.
"OMGClayAiken" was relentlessly pounding away at "Isildur1", winning big hand after big hand. "Isildur1" doesn't seem to be able to quit games when things aren't going his way, and this definitely cost him on Wednesday.
According to
HighStakesDB.com
, "Isildur1" ended up playing over 10,000 hands on Wednesday, losing a total of $1.533 million in the process.
Prior to today's long session, "Isildur1" was up over $3 million on the year, thanks in large part to his phenomenal $1.4 million day earlier this week. He's still up on the year, so you can probably safely expect that he will be back on Full Tilt Poker tomorrow, battling it out with yet another "big" name.
There's never a dull moment when "Isildur1" is sitting at the tables..
--
Filed Under:
Cash Games