"durrrr" Up Big on Full Tilt Poker Since Beginning of December
Published on March 17th, 2010 7:28 am EST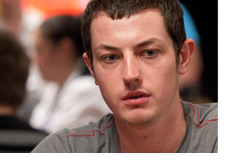 Over the past 3 1/2 months, Tom "durrrr" Dwan has been the biggest winner on Full Tilt Poker (by far), having made a little over $6 million over 130k tracked hands.
This is quite the unbelievable turnaround, especially considering that from Jan 1/09 to Nov 30/09, Dwan managed to lose over $6.8 million on the site.
Many people wondered not too long ago if November 2009 would be the beginning of the end for Dwan's incredible run in the online poker world. Dwan, shortly after inking a lucrative deal with Full Tilt Poker, went into a nosedive, dropping nearly $6.4 million in November 2009 alone. Much of this money was lost to "Isildur1", who managed to clobber Dwan over a number of notable sessions.
"durrrr" has made some unbelievable recoveries before, but this one is probably his best.
From Jan 1/09 to Nov 30/09 on Full Tilt Poker, Tom "durrrr" Dwan dropped $6,838,546.10 over 246,986 tracked hands.
From Dec 1/09 to Mar 15/10, Tom "durrrr" Dwan has made $6,084,239.26 over 130,607 tracked hands.
Throw in his results from the "durrrr" Million Dollar Challenge (-$22,500 vs Marcello Marigliano, +$68,000 vs Ilari Sahamies and +$750,000 vs Sammy "Any Two" George) and Dwan is up over $500,000 since the beginning of November. Quite amazing when you consider that he dropped over $6 million on FTP in November alone.
Not only that, but "durrrr" also has Patrik Antonius on the ropes in the "durrrr Challenge" (up almost $2 million), meaning that another $500k could be headed his way over the next few months (or whenever the challenge actually comes to an end).
Quite the amazing turnaround for "durrrr"..
Source:
HighStakesDB.com
Photo: GreasieWheels.com
--
Filed Under:
Cash Games