"durrrr Challenge" Update, Cole South Says Goodbye to Cardrunners
Published on April 28th, 2010 6:49 am EST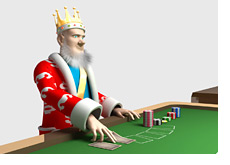 1. Cole South Says Goodbye to Cardrunners.
In an April 27th blog post titled "Moving On and Good Luck", Cole South announced that he was leaving Cardrunners.com "as an instructor and as an owner of the business."
Cole says that he was "spread too thin" as a student, poker player and instructor/owner of Cardrunners.com, so he decided to leave Cardrunners so that he could focus on playing poker and finishing his degree.
Losing South will be a big hit to Cardrunners, as he has attracted a big following due to his success playing online cash games on Full Tilt Poker and Pokerstars. I've also heard from many people that his instructional videos are excellent.
I'm not sure whether or not this announcement means that Cole will be losing his "red pro" status on Full Tilt Poker. I would imagine that Full Tilt will try pretty hard to keep him as a sponsored player, even though he will no longer be a member of "Team Cardrunners."
Source: Cardrunners.com -
Moving On and Good Luck
2. "durrrr Challenge" Update.
Patrik Antonius and Tom Dwan hooked up for a quick "durrrr Challenge" session earlier today, with Antonius slightly narrowing Dwan's lead by about $150k.
At one point during the session, Dwan extended his lead in the challenge to about $2.1 million. Antonius fought back, and by the time that the two had finished for the day, was down approximately $1.85 million overall in the challenge.
Here is how it stands as of right now:
33,838 of 50,000 hands completed, "durrrr" up about $1.847 million
Antonius has about 16,000 hands to make up a $1.85 million deficit or else he will have to pay Dwan an additional $500,000 for losing the challenge.
The biggest pot of Tuesday's session was won by "durrrr".
After a flop of 7d-Jd-3h, the two players got into a raising war and were soon all-in.
Dwan showed 7s-Qs-7c-2h for a set of Sevens, while Antonius showed Qd-Qh-5d-Kh for a pair of Queens and a diamond flush draw.
The turn brought the Jc, giving Dwan a full house. The river brought the 3d, and Dwan took down the $273k pot with his full house, sevens full of Jacks.
--
Filed Under:
Cash Games
|
Other Poker News