Patrik Antonius Manages to Erase 2010 Losses on Full Tilt Poker
Published on May 4th, 2010 6:27 pm EST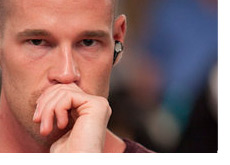 Patrik Antonius, who has been one of the most consistently profitable high stakes cash game players in the history of online poker, has managed to erase nearly $4 million in losses on Full Tilt Poker in the past month and a half.
According to HighStakesDB.com, Patrik Antonius was down just over $3.6 million on FTP from January 1st 2010 to March 15th 2010. This result meant that Antonius had sustained the biggest loss of any other player on Full Tilt Poker during that time. Antonius had managed to lose a full $1.5 million more than the #2 player on the list, Brian Townsend (-$2.14 million).
It seemed to be just a matter of time before Antonius would come roaring back. After all, Patrik made nearly $9 million on Full Tilt in 2009, and has consistently dominated online cash games for a number of years.
The long-expected upswing for Patrik Antonius finally started in mid-March, and has run right through the beginning of May. From March 16th to May 3rd, Antonius has made a total of $3.66 million over 27,467 tracked hands, which has completely erased his 2010 losses on Full Tilt. The massive cash games that take place in "Bobby's Room" during the World Series of Poker are just a few weeks away, and Antonius is likely pretty happy to be experiencing an upswing before they get under way.
The upswing from Patrik Antonius leaves Brian Townsend (-$2.2 million) as the biggest loser on Full Tilt Poker in 2010.
--
Tom "durrrr" Dwan, who managed to have an upswing of nearly $10 million that ran from late 2009 to mid-April, has cooled off a bit in recent weeks.
"durrrr" has still had a very good 2010 (he is up nearly $3.8 million, more than double the profits of Di "Urindanger" Dang), but his massive upswing has finally come to an end.
From January 1st 2010 to April 20th 2010, Tom "durrrr" Dwan was up nearly $5.8 million over 151,114 tracked hands on Full Tilt.
Since then, "durrrr" has dropped $2 million over a total of 30,361 hands. The two players who have surged during this time? Patrik Antonius (+$1.66 million) and Phil Ivey (+$1.32 million).
It should be interesting to see how "durrrr" does over the next couple of months..
--
As of May 3rd, here are the top 5 winners and losers on Full Tilt so far this year:
1. "durrrr", +$3.8 million
2. "Urindanger", +$1.86 million
3. "PostFlopAction", +$1.68 million
4. Phil Ivey, +$1.62 million
5. "theASHMAN103", +$1.6 million
-
1. Brian Townsend, -$2.2 million
2. "Matatuk", -$1.49 million
3. "ZeeJustin", -$1.33 million
4. Richard Ashby, -$1.2 million
5. "howisitfeellike", -$917k
Source:
HighStakesDB.com
Photo: GreasieWheels
--
Filed Under:
Cash Games