Victorino Torres Wins APPT Macau Main Event
Published on May 23rd, 2010 3:47 pm EST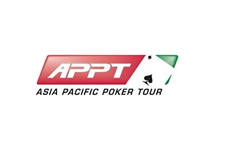 Victorino Torres took down Chong Cheong in heads-up play to become the Pokerstars APPT Macau Season 4 Champion earlier today.
For his victory, Torres will walk away with $3,246,200 HKD, which works out to be about $416,000 USD. Cheong, who ended up finishing the tournament in second place, will take home $2,088,000 HKD (which is about $267,606 USD).
When heads-up play began, Torres had a 4.7 million to 2.1 million chip advantage over Cheong. Cheong had eliminated Cole Swannack in third place (AA > 22 all-in preflop), which enabled him to gain some valuable chips before the heads-up confrontation with Torres.
It looked as though the heads-up battle might be over in just a couple of hands after Cheong called a pre-flop push from Torres. Torres, who had the commanding chip lead at the time, turned over Ah-Js, while Cheong turned over Kh-Qs.
The flop (Kd-Qd-5d) hit Cheong hard though, giving him top two pair. The turn was the Qs, giving Cheong a full house and a key double-up.
However, there were to be no comebacks for Cheong on this day.
Just a few minutes later, the two players pushed their stacks into the middle after a flop of Th-9s-Js. The two players turned over:
Torres - 7c-8c
Cheong - 6c-Qd
Torres had flopped the straight, while Cheong was on a draw. The turn and river helped neither player, and Torres was declared the APPT Macau main event champion.
Here is how the final table finished out on Sunday:
Victorino Torres - $3,246,200 HKD
Chong Cheong, $2,088,000 HKD
Cole Swannack, $1,177,600 HKD
Jeppe Drivsholm, $891,000 HKD
Kenny Nielsen, $700,000 HKD
Brian Green, $572,900 HKD
Kai Paulsen, $445,600 HKD
Albert Kim, $350,100 HKD
Keith Hawkins, $254,608 HKD
--
A total of 342 players participated in this year's APPT Macau main event, which ended up creating a total prize pool of over $12.7 million HKD.
The tournament champion, Victorino Torres, is a 33 year-old attorney from the Northern Mariana Islands who has been playing poker for about three years.
--
Filed Under:
Tournament Results