"NEKOTYAN" Up Over $400k On Full Tilt Poker in July
Published on July 20th, 2010 10:01 pm EST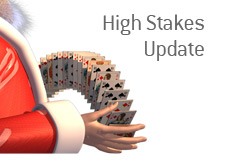 For everybody but the "November Nine", the 2010 World Series of Poker has now come to an end.
The end of the World Series of Poker also means that many of the big cash games in "Ivey's Room" and "Bobby's Room" have come to an end as well, at least for now. This means that names such as Tom "durrrr" Dwan and Patrik Antonius will be venturing back to the online tables, which should help to rejuvenate the big cash games on Full Tilt which have been largely devoid of any action over the past month and a half.
The fact that names such as "durrrr" and Phil Ivey haven't been logging much time online as of late means that we have some unfamiliar names at the top of the July cash game leaderboard.
Heading the list is "NEKOTYAN", who is currently up $422k over the first 19 days of July. "NEKOTYAN" is a player that not many people seem to talk about, but he has been able to quietly accumulate over $1.86 million in profits so far in 2010 on Full Tilt.
The rest of the top five looks like this:
"riyyc225", +$404k
Andy Bloch, +$286k
"jungleman12", +$245k
Patrik Antonius
, +$227k
Apparently there is a chance that "jungleman12" will be taking on Tom Dwan in a future "durrrr Challenge". We'll see if that actually ends up happening, but apparently Dwan and "jungleman12" were discussing a possible match online a few days ago.
Thanks in part to his $227k profit in July, Patrik Antonius has managed to dig himself out of a hole and is now profitable for the year. Antonius got off to an uncharacteristically slow start in 2010, dropping a few million dollars in January and February before turning things around.
Other notable names with profits in July include:
"PostFlopAction", +$171k
"Ziigmund", +$110k
--
"Observer84" has posted the largest loss of anybody on Full Tilt Poker so far in July, dropping a total of $224k over 2,058 hands.
Ashton "theASHMAN103" Griffin, "UarePileous", "Nizot Skizared" and "rumprammer" have all dropped in excess of $200k in July as well.
Tom "durrrr" Dwan, who recently returned to online play after a long absence, is currently down about $195k in July on Full Tilt Poker.
--
The five bigger winners for all of 2010 (up to July 19th) are:

Tom "durrrr" Dwan
- +3.25 million
"jungleman12" - +2.25 million
Phil Ivey
- +2.02 million
"PostflopAction" - +1.92 million
"NEKOTYAN" - +1.87 million
The top five losers are:
Brian Townsend, -$2.53 million (though he has switched back to his old "
sbrugby
" alias)
"Matatuk", -$1.49 million
Justin "Zeejustin" Bonomo, -$1.44 million
Richard Ashby, -$1.29 million
"
howisitfeellike
", -$1.07 million
--
Source:
HighStakesDB.com
--
Filed Under:
Cash Games