Tom "durrrr" Dwan Now Up Over $2 Million in "durrrr Challenge"
Published on August 3rd, 2010 5:23 am EST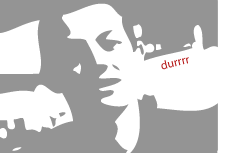 Tom "durrrr" Dwan and Patrik Antonius hooked up for another very short installment of the "durrrr Challenge" early Tuesday morning.
The result wasn't a good one for Patrik Antonius, as he somehow managed to lose nearly $460k over a 182 hand session.
This means that Tom "durrrr" Dwan is now up over $2 million ($2,059,719.50 to be exact) with just 10,564 hands left remaining in the challenge.
For fans of Patrik Antonius, the outlook does not look good. In order to catch "durrrr", Antonius will need to make an average of $195 per hand over the last 10k+ hands of the challenge. Not impossible, but certainly a tall order.
"durrrr" obliterated Antonius tonight, winning all five of the largest pots over the 182 hand session.
The largest pot of the night saw "durrrr" win $157,587.50 after flopping a set of Queens.
There was $43,200 already in the pot when the flop came 3s-Qc-9c. "durrrr" led out with a bet of $43,200, leaving himself just $13,994 behind. Antonius raised and "durrrr" made the insta-call.
The two players turned over:
Dwan - Ks-10h-Qd-Qs
Antonius - 6c-Qh-8s-9h
Antonius was nearly dead with his two pair vs Dwan's set of Queens, and the turn (2s) sealed his fate.
This hand illustrated what kind of a night it was for Antonius, as he managed to drop nearly $500k in less than an hour.
After making up a bit of ground on "durrrr" earlier in the week, Antonius has now found himself down over $2 million once again.
--
Filed Under:
Cash Games