Perica Bukara Leads High Roller Freeze-Out of FTP Merit Cyprus Classic Heading Into Final Table
Published on August 20th, 2010 2:42 am EST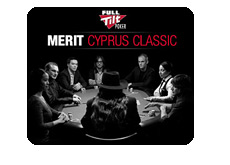 Perica Bukara will have a commanding chip lead when the final table of the High Roller Freeze-Out event at the 2010 Full Tilt Poker Merit Cyprus Classic gets underway later today.
36 players decided to play in this event, which ended up creating a prize pool of $873,000. The top 5 spots will pay, with the winner of the event taking home just under $400k.
The field included a few big names (Phil Ivey, David Benyamine, Michael "The Grinder" Mizrachi), a few of the members of the 2010 "November Nine" ("The Grinder", John Dolan, Filippo Candio) and a few other notable names (Sorel Mizzi, Carter Phillips, Jon Turner, Andrew Feldman).
As mentioned, Perica Bukara will take a commanding chip lead with him into the final day of play on Friday. Bukara managed to finish Day 2 with over 950k in chips, which was approximately 400k more than his next closet competitor (Ori Miller, 546k).
Here are the chip counts heading into Friday's final table:
Perica Bukara, 951,700
Ori Miller, 546,000
John Dolan, 455,500
Carter Phillips, 401,600
David Benyamine, 400,300
Andrew Feldman, 356,000
Jon Turner, 197,700
Sam Trickett, 188,200
Ziv Caspi, 103,500
The blinds will be 2,000/4,000 with 400 antes when play resumes on Friday.
--
Michael "The Grinder" Mizrachi was looking to continue his recent hot streak in this event. Things were looking good for the "Grinder" early on in Day 2, as he was the tournament chip leader and seemed to have plenty of momentum.
Things were not meant to be for Mizrachi in this tournament though. Mizrachi's positive momentum hit a wall when he got into an all-in confrontation with Carter Phillips after a flop of As-Kh-7s. Mizrachi was in very good shape to win the hand, as he flipped over A-10 offsuit vs Carter's Ah-6h. The turn brought the 6d, giving Phillips two pair and the lead in the hand. The river didn't help either player and Phillips was pushed the very large pot.
The day ended for the "Grinder" when his pocket Jacks lost to the Ac-Ks of Perica Bukara in an all-in, pre-flop confrontation.
Phil Ivey also fell on Day 2 after being eliminated at the hands of Mizrachi. With the board reading Qc-10d-3h-5h-7s, Mizrachi put Ivey all-in. After a bit of thought, Ivey made the call and was shown a set of Threes by Mizrachi. Ivey couldn't beat the set and quietly retreated from the tournament area.
--
Day 3 of this event will get under way at 4 pm local time on Friday afternoon.
--
Filed Under:
Tournament Results