Full Tilt Poker Merit Cyprus Classic and WPT Legends of Poker Updates
Published on August 21st, 2010 10:04 am EST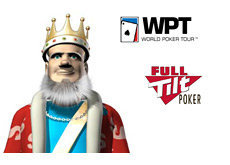 1. Perica Bukara Wins $25,000 High Roller Freeze-out at FTP Merit Cyprus Classic.
Perica Bukara breezed his way to victory in the $25k High Roller event at the Full Tilt Poker Merit Cyprus Classic on Friday, taking home $373,207 in the process.
Bukara held the chip lead for virtually the entire final table of this event, despite the fact that there were a number of very good players that were gunning for his stack. The eventual second place finisher (Ori Miller) was able to gain a 2:1 chip advantage over Bukara during heads up play, but Perica was able to battle back to take down the tournament.
The final hand of the event came when Bukara pushed all-in over the top of a standard pre-flop raise from Miller. Miller, who held A-J offsuit, elected to make the call, while Bukara flipped over Kh-5h. The two players, who had nearly identical stacks at the time, were both clearly exhausted and wanted the tournament to come to an end.
The board ran out:
9d-3h-7c-5s-7s
Bukara, with his pair of fives, took down the very large pot and was declared the winner, while Ori Miller took home $207,337 for his second place finish.
The payouts in this event ended up looking like this:
1. Perica Bukara, $373,207
2. Ori Miller, $207,337
3. Andrew Feldman, $124,402
4. David Benyamine, $82,935
5. Jon Turner, $41,467
2. Full Tilt Poker Merit Cyprus Classic Main Event.
Day 1b of the FTP Merit Cyprus Classic main event just got underway a few hours ago.
According to
Pokernews.com
, "a little over 100 players" turned out for Day 1a of the event on Friday.
Nicolas Chouity, who took down the EPT Grand Final in April for over $2.2 million, managed to finish Day 1a with the chip lead (119,600). Chip Jett (80,750), Dave Colclough (68,000) and Van Marcus (67,500) also turned in strong performances on Friday as well.
Other notable names who are still alive in the main event after Day 1a include:
Chino Rheem, 40,300
Michael "The Grinder" Mizrachi, 36,025
John Racener, 32,900
Eric Mizrachi, 20,000
--
Day 1b is still in progress as we speak, with Antonio Esfandiari jumping out to an early chip lead.
Eric Liu, John Dolan, Sorel Mizzi and David Benyamine are some of the other notable names who have gotten off to strong starts on Saturday.
The final prize pool and payout numbers for the main event should be available by the end of the day.
3. WPT Legends of Poker Day 1a Recap.
186 players coughed up the $5k to participate on Day 1a of this year's WPT Legends of Poker event at the Bicycle Casino, but only 90 managed to make it through to Day 2.
Here are the top 10 chip counts from the end of Day 1a (source:
Worldpokertour.com
):
1. Manuel Reyes, 205,350
2. Raymond Dolan, 165,500
3. Max Casal, 138,500
4. Ken Michelman, 125,200
5. Franco Brunetti, 124,575
6. Mike Baxter, 117,700
7. Tim Phan, 110,700
8. McLean Karr, 100,675
9. Barry Greenstein, 100,675
10. Craig Bergeron, 95,400
Jonathan Aguiar (78,125), Maria Ho (48,025), Chad Brown (47,075) and Jason Mercier (21,000) were some of the other notable names who managed to make it through to Day 2.
Day 1b, which should feature the likes of Daniel Negreanu and defending champion Prahlad Friedman, will get underway later today.
--
Filed Under:
Tournament Results