Tom Dwan Posts $130k Win in First "durrrr Challenge" #2 Session
Published on August 27th, 2010 4:26 am EST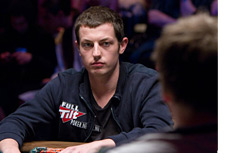 The second "durrrr Challenge" finally got underway earlier tonight, with Tom Dwan jumping out to an early lead.
Tom "durrrr" Dwan and Daniel "jungleman12" Cates completed 1,651 hands earlier tonight, with Dwan posting a profit of just under $130k ($129,888.50 to be exact).
From what I saw, Dwan and Cates were playing 6 tables of $200/$400 No Limit Hold'em for the majority of the session, which ended up lasting approximately 2 hours or so.
Full Tilt Poker has now set up eight tables that have been specifically designated for the second "durrrr Challenge". The eight tables, which are labelled "durrrrr Challenge" 9-16, weren't used by the players tonight, as they hadn't been set up in time. Now that the tables have been officially set up, you can expect that Full Tilt will start logging the results of the second "durrrr Challenge" on their site.
--
The biggest pot of the session (that didn't end up being split) was won by Tom "durrrr" Dwan.
After a flop of 9s-5d-2s, "durrrr" and "jungleman12" got their stacks into the middle, with "jungleman12" showing 6h-9h for a pair of nines, and "durrrr" showing As-10s for the nut flush draw plus overcards.
Dwan and Cates ran it twice. The first deal came 2d-7s, giving "durrrr" the nut flush. The second deal came 3h-Ac, giving Dwan a pair of Aces. "durrrr" won both deals and ended up taking down the $91,600 pot.
--
It appears as though action is going to resume shortly (4:15 am EST), as "jungleman12" just sat down at six of the newly created "durrrr Challenge" tables. We'll have another update later in the day if action does resume tonight..
Edit:
play just resumed (5:15 am EST)
Edit #2:
It's 12:01 pm EST and they are still playing, with "jungleman12" jumping out to a substantial lead after 5k+ hands. We'll have an update later today.
Photo: GreasieWheels
--
Filed Under:
Cash Games