Gus Hansen Suffers Through Another Beating on Full Tilt Poker
Published on August 30th, 2010 6:46 pm EST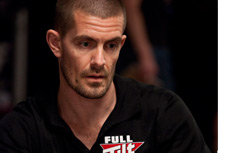 Things just keep getting worse and worse for Gus Hansen on Full Tilt Poker.
According to HighStakesDB.com, "The Great Dane" dropped nearly $1.2 million yesterday on Full Tilt Poker over 2,166 tracked hands. This money was lost to Phil Ivey (+679k) and Cole South (+493k).
For the month of August, Gus Hansen is now down an eye-popping $2,856,898.00 over 43,224 hands. Phil Ivey has benefited the most from Hansen's catastrophic month, pocketing over $1.8 million.
Gus has also managed to blow another strong start to the year. At the end of February, Hansen was up over $1.8 million. Thanks in large part to his disastrous August, Gus is now down over $2.3 million on the year. The same thing happened to Gus last year on FTP - a strong start followed by a horrific downswing.
Since January 1st, 2007, Gus is down approximately $9.23 million over a total of 871,996 hands on FTP. Phil Ivey, on the other hand, has made nearly $20 million during the same period of time on the site.
--
Not to pick on Gus or anything, but the fact that he has lost almost $10 million on Full Tilt Poker over nearly 900k hands is unbelievable to me. How much more pain can Gus possibly endure on the site?
Source:
HighStakesDB.com
Photo: GreasieWheels
--
Filed Under:
Cash Games