"jungleman12" Up Nearly $700k in Second "durrrr Challenge"
Published on August 31st, 2010 2:07 am EST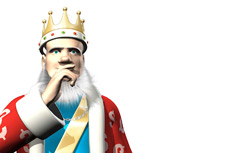 Daniel "jungleman12" Cates extended his lead in the "durrrr Challenge" earlier today, and is now up approximately $692,000 after a total of 6,820 hands.
"jungleman12" and Tom "durrrr" Dwan played a short session of less than 1,000 hands on Monday afternoon, with "jungleman12" netting a profit of around $173k. Dwan, who was nursing short stacks on several of the "durrrr Challenge" tables, decided that it just wasn't his day and left abruptly.
Dwan got off to a strong start in the second "durrrr Challenge", banking approximately $130,000 over the first 1,651 hands. Unfortunately for "durrrr", "jungleman12" has completely dominated since then, winning about $820k over the next 5,000+ hands.
If "jungleman12" goes on to win this challenge, then he will receive an additional $1.5 million from Dwan. If Dwan can come back and win, then he will receive $500,000 from "jungleman12". These amounts are in addition to whatever was won during the course of the challenge.
Some people are already writing "durrrr" off, even though the challenge isn't even 15% complete. There will be many swings during the course of this challenge, and it's WAY too early to be writing anybody off, especially somebody as talented as "durrrr". Don't forget - Patrik Antonius once held a lead of about $500k during the first "durrrr Challenge", and is now down by over $2 million. If "durrrr" can catch Patrik Antonius, then he can definitely catch "jungleman12".
--
Despite dropping $173k earlier today, Dwan actually managed to win the biggest pot of the session.
With the board reading Kh-8d-3c-10h-2c, a seemingly sleepy hand sprung to life as "jungleman12" and "durrrr" got into a raising war after the river card was dealt. "jungleman12" had soon committed the last of his chips, allowing "durrrr" to scoop the $132k pot with his set of Tens.
--
Filed Under:
Cash Games