Is Viktor Blom Behind the "grolongo" Account on Pokerstars?
Published on September 13th, 2010 11:21 pm EST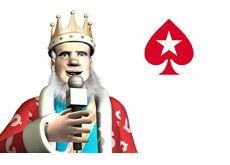 Is "grolongo" on Pokerstars Viktor Blom, aka "Isildur1"?
Almost definitely.
Earlier this week, a player named "grolongo" (from Sweden) captured the attention of many railbirds on Pokerstars.
"grolongo", while employing a hyper-aggressive style, booked a profit of over $86k on September 8th. There were many similarities between "Isildur1" and "grolongo" - both played very aggressively, both flipped between NLHE and PLO, both enjoyed playing on very big stacks, and both would play multiple HU tables against some of the very best players in the world. In addition, both players would have no problem taking on multiple opponents at the same time.
"grolongo" attracted the attention of both Brian "$tinger88" Hastings and Phil "MrSweets28" Galfond, which just added to the speculation that "grolongo" was, in fact, Viktor Blom.
Like "Isildur1", "grolongo" played an unbelievable amount of hands while running up his bankroll and entertaining the masses. According to PTR, "grolongo" hit a high of +$67,267 on September 8th.
And, just like "isildur1", "grolongo" attracted the sharks and was soon sent packing from the high stakes action. According to PTR, "grolongo" dropped nearly $100k on September 10th, and hasn't been seen in the high stakes games on Pokerstars since.
The way that "grolongo" refused to capitulate, without dropping down in stakes, seems to be even more evidence that Viktor Blom is behind the account. "Isildur1" didn't slow down either on Full Tilt Poker - instead, he continued to slug it out against the best in the world, even when his newfound bankroll was being evaporated before his very eyes.
--
"grolongo" is still alive in WCOOP #22 ($530 NLHE, $3 Million Guaranteed) with around 1,737 players left. First place in this event is nearly $470k - many people will be cheering for "grolongo" to take down this event, simply so that he can provide some more high stakes entertainment.
--
Filed Under:
Cash Games