Brian Townsend Is a Near Lock To Finish 2010 As The Biggest Loser on Full Tilt
Published on November 2nd, 2010 1:43 am EST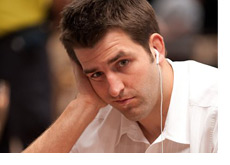 According to HighStakesDB.com, Brian Townsend has dropped over $4.1 million on Full Tilt Poker in 2010, making him the biggest loser on the site through October.
Gus Hansen is currently far behind in second place, as he has dropped an estimated $1.91 million through the first ten months of 2010.
Back in June, Townsend announced that he would no longer be a lead instructor on Cardrunners.com. He also stated at the time that he would no longer be a Full Tilt "red pro".
Up until that point, the "Brian Townsend" account on Full Tilt Poker had dropped just over $2.5 million over 108,561 tracked hands in 2010.
After announcing that he was leaving Cardrunners.com, Townsend switched back to his original "sbrugby" account on Full Tilt Poker. The results have been the same for Townsend, as his "sbrugby" account is currently down over $1.6 million in 2010 over a total of 33,696 tracked hands.
Combine the results from the "Brian Townsend" and "sbrugby" accounts, and you are left with a total loss of over $4.1 million for the year.
--
The last 12 months or so haven't been very good for Townsend, as both his reputation and bankroll have taken a beating.
In December of 2009, Townsend revealed that his "red pro" status on Full Tilt Poker had been suspended for the second time. This came after Full Tilt Poker learned that Townsend had acquired 30k hands of someone else's sessions against "Isildur1".
In the summer of 2008, Townsend had his first run-in with Full Tilt Poker after it was revealed that he had been playing under "2nd aliases" on both Full Tilt Poker and Pokerstars.
--
Can Brian Townsend rebound after a disastrous downswing in 2010, or are his best days behind him?
Source:
HighStakesDB.com
Photo: GreasieWheels.com
--
Filed Under:
Cash Games