Ali Tekintamgac Disqualified From Tournament
Published on November 5th, 2010 5:59 pm EST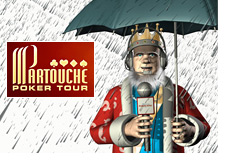 Most poker fans are primarily focused on the World Series of Poker main event final table that is set to get underway tomorrow (November 6th).
However, many people have forgotten that there is another major poker tournament that is also concluding this weekend - the Partouche Poker Tour main event.
Earlier today it was revealed that a final table participant of the Partouche Poker Tour main event has been disqualified from the tournament due to cheating.
According to translated text from the Partouche Poker Tour blog:
"Ali Tekintamgac excluded from the final table of the Partouche Poker Tour.
After investigation, it appears that the German player Tekintamgac Ali was guilty of fraud to enter the final table of the Partouche Poker Tour Season 3.
Accordingly, the Tournament Director took the decision to exclude Tekintamgac Ali.
So begins the final table with eight players."
Link:
Partouche Poker Tour Blog
--
According to
Ouest-France.fr
, a "good source" revealed that Tekintamgac had been helped by a "fake reporter" who had apparently managed to spot some of the cards that had been held by other players and signal this information to Tekintamgac. This activity was apparently spotted using videotapes of the tournament. The Partouche Group has apparently stated that "the video speaks for itself".
--
Here were the chip counts prior to Ali's disqualification:
Vanessa Selbst, 3,951,000
Fabrice Soulier, 3,652,000
Raouf Ibrahim, 3,492,000
Ali Tekintamgac, 3,289,000
Tommi Etelapera, 3,129,000
Raphael Kroll, 2,390,000
Soren Konsgaard, 1,073,000
Tobias Reinkemeier, 819,000
Cyril Andre, 600,000
As mentioned, Ali and his chips will be removed from the final table, leaving just eight players.
The eventual winner of this event will take home 1.3 million EUR, which works out to about $1.65 million USD.
--
As some other people have already pointed out, Tekintamgac took down the WPT Spanish Championship in May for 278k Euros ($343,307).
Here is an interview with him from that event:
Crazy..
--
Filed Under:
Poker Scandals