Joe Tehan Turns In Dominating Final Table Performance in NAPT Los Angeles Main Event
Published on November 18th, 2010 4:29 am EST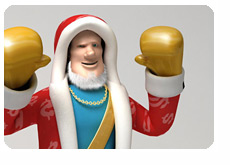 Joe Tehan turned in a dominating performance on Wednesday, eliminating each and every one of his final table opponents to capture the inaugural NAPT Los Angeles main event. Tehan took home $725,000 and the NAPT Los Angeles trophy for his victory.
Tehan entered the final table with just over 1.9 million in chips, far behind chipleader Christopher Demaci's massive 6,283,000 stack.
Tehan and Demaci would clash in the first big pot of the day. After a pre-flop raising war, Tehan and Demaci soon found themselves in an all-in confrontation. The two players turned over:
Tehan - Kh-Ks
DeMaci - Ac-Kc
The board ran 8s-2d-6h-6d-3h, giving Tehan a key double-up and knocking DeMaci out of the chip lead. From there, Tehan never looked back, seemingly winning every big hand of the day.
--
As mentioned, Tehan was a one-man wrecking crew at the final table, eliminating each and every one of his opponents. After eliminating Al Grimes in third place, Tehan had a large 14.6 million to 6.35 million chip lead over Chris DeMaci.
Tehan slowly chipped away at DeMaci's stack over the next number of hands. DeMaci had a little over 3 million left when he decided to make his final stand after a flop of 3s-5h-Ks. DeMaci shoved after a bet from Tehan, and Tehan quickly made the call. They turned over:
Tehan - Kc-Th
DeMaci - Kd-4h
The board ran out 5s-4s, giving Tehan Kings and Fives with a Ten kicker to win the pot and the tournament. DeMaci walked away with $440,000 for finishing in second place, while Tehan, as mentioned, took home $725,000.
--
Here is how the final table finished out on Wednesday:
1. Joe Tehan, $725,000
2. Christopher DeMaci, $440,000
3. Al Grimes, $250,000
4. Anh Van Nguyen, $195,000
5. Ray Henson, $145,000
6. Michael Binger, $114,000
7. Jason Mercier, $84,857
8. Jake Toole, $60,000
--
Filed Under:
Tournament Results