Patrik Antonius Up over $1.2 Million in November
Published on November 29th, 2010 4:56 am EST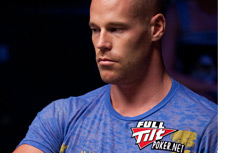 After getting off to a very slow start in 2010, Patrik Antonius has come roaring back and currently has a profit of over $1.75 million on Full Tilt Poker for the year.
The remarkably consistent Antonius struggled out of the gate in 2010, dropping $2 million over the first two months of the year. As of February 28th, Antonius had dropped the most money of any player on Full Tilt Poker. This stat was especially striking compared to Patrik's $8,973,946 profit on FTP in 2009.
Since the end of February, Antonius has returned to his winning ways, banking over $3.75 million in profits. Only one player has earned more money on Full Tilt Poker during that time - Daniel "Jungleman12" Cates (+$4.23 million).
A large chunk of Patrik's 2010 profits have come in November. According to HighstakesDB.com, Antonius is up over $1.2 million on Full Tilt for the month, which is far ahead of the next most profitable player (Di "Urindanger" Dang).
With Phil Ivey and Tom "durrrr" Dwan having spent the majority of the month battling rich Chinese businessmen in Macau, Antonius has been cleaning up on Full Tilt Poker.
Some of the other players who have had strong months in November include:
Di "Urindanger" Dang, +757k
"bemyguestbud", +647k
"URnotINdanger2", +634k
Gus Hansen, +596k
The top winners in 2010 as of November 27th are Daniel "Jungleman12" Cates (+4.5 million), Tom "durrrr" Dwan (+4.02 million) and Phil Ivey (+3.03 million).
--
Patrik's friend and fellow countryman Ilari "Ziigmund" Sahamies has not had a good month on Full Tilt Poker, dropping roughly $1.36 million over a total of 6,712 tracked hands.
According to HighStakesDB.com, "Ziigmund" is currently down nearly $2 million on FTP in 2010. According to "Ziigmund" himself, he is currently on the "longest downswing I have ever had".
Other players who have posted big losses in November on FTP include:
"cadillac1944", -710k
"DIN_FRU", -585k
"iHateJuice", -415k
"davin77", -293k
The biggest loser in 2010 on Full Tilt Poker continues to be Brian Townsend, who has dropped over $4 million between his "Brian Townsend" and "sbrugby" accounts.
Source:
HighStakesDB.com
Photo: GreasieWheels.com
--
Filed Under:
Cash Games