Phil Ivey Continues To Dominate Despite Limited Play
Published on December 1st, 2010 10:23 am EST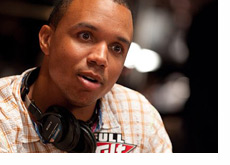 Phil Ivey is the third most profitable cash game player on Full Tilt Poker in 2010 (not a surprise), despite the fact that he has only logged 47,690 hands on the site so far this year.
Over the first 11 months of 2010, Phil Ivey has made $2,978,519 on Full Tilt Poker, putting him slightly ahead of Tom "durrrr" Dwan ($2,974,594) on the FTP high stakes cash game leaderboard. This comes despite the fact that Dwan has played nearly 250,000 more hands than Ivey.
As a matter of fact, Tom Dwan has played almost as many hands in 2010 on Full Tilt Poker as Phil Ivey has played since the beginning of 2007:
Phil Ivey - 292,723 Tracked Hands Since Jan 1, 2007
Tom "durrrr" Dwan - 290,176 Tracked Hands Since Jan 1, 2010
Those 292,723 hands that Phil Ivey has played since the beginning of 2007 on Full Tilt Poker have translated into $18,645,382 in total profits. To illustrate how completely ridiculous this is, Tom "durrrr" Dwan (who has had a strong year on Full Tilt), has made a little under $3 million on Full Tilt this year over a nearly identical number of hands.
--
Believe it or not, Phil Ivey is on track to post his "worst" year on Full Tilt since 2007. Here is a breakdown of Ivey's profits over the past three years:
2008 - $7,335,112
2009 - $6,337,702
2010 - $2,978,519
The "culprit"? Nothing more than reduced time on Full Tilt Poker, as Ivey has been spending much more of his time lately on the road (presumably due to his recent re-introduction to singlehood). You can see that Ivey's total profit/hand has remained remarkably consistent over the past three years:
2008 - $76.50 Profit/Hand
2009 - $63.67 Profit/Hand
2010 - $62.45 Profit/Hand
How's that for consistency?
--
Despite the fact that Ivey's appearances on Full Tilt have been few and far between this year (especially when compared to some of his competition), he is still the third most profitable player on the site through the end of November.
Since the beginning of 2007, Ivey has never finished lower than third on the FTP High Stakes cash game leaderboard (3rd in 2007, 1st in 2008, 2nd in 2009). As mentioned, he is currently sitting in third place in 2010.
In short - the high stakes community needs to be thankful that Ivey has been mostly pre-occupied this year with "live" poker (eg battling Chinese businessmen in Macau, hitting all points on the globe for tournaments, etc), as his absence on Full Tilt Poker has actually allowed some other people to win for once.
Source:
HighStakesDB.com
Photo: GreasieWheels.com
--
Filed Under:
Cash Games