Details Continue To Emerge Re: Harry Reid's Internet Poker Bill
Published on December 7th, 2010 7:55 am EST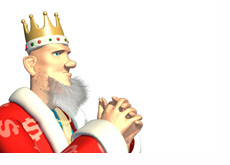 1. It's all Esfandiari at the Doyle Brunson Five Diamond World Poker Classic.
Antonio Esfandiari continued his strong play at the Five Diamond World Poker Classic on Monday, once again finishing at the top of the leaderboard.
Esfandiari has finished with the tournament chip lead on three consecutive days, and will be looking to make it four in a row as the tournament plays down to the TV final table on Tuesday. Esfandiari will enter Day 5 with a stack of nearly 2.7 million chips, far ahead of John Racener (1,900,000) and Andrew Robl (1,750,000).
Esfandiari is looking for his first major tournament victory since 2004, when he won both a WPT title (LA Poker Classic) and World Series of Poker bracelet.
After four days of play, 15 of the original 438 players are still alive in the event. They are:
1. Antonio Esfandiari - 2,680,000
2. John Racener - 1,900,000
3. Andrew Robl - 1,750,000
4. Kia Mohajeri - 1,694,000
5. Kirk Morrison - 1,545,000
6. Luis Velador - 1,423,000
7. Sorel Mizzi - 1,380,000
8. Ray Dehkharghani - 1,148,000
9. Andrew Lichtenberger - 915,000
10. Vanessa Rousso - 888,000
11. Chris DeMaci - 801,000
12. Amit Makhija - 756,000
13. Ted Lawson - 400,000
14. Danny Fuhs - 247,000
15. Charles Caris - 125,000
As you can see, there are a number of notable names that are still left in this tournament.
Some of the more recognizable names that hit the rail on Monday were:
Doyle Brunson, 18th
Marco Traniello, 20th
Freddy Deeb, 24th
David Baker, 28th
Bryn Kenney, 32nd
--
All 15 of the remaining players in the event are guaranteed a minimum of $42,231 for making it this far. The eventual winner of the event will walk away with $870,124, while the runner-up will take home $549,003.
Day 5 will begin at 12 pm local time on Tuesday afternoon.
2. New Developments Regarding the "Internet Poker Act of 2010".
Harry Reid and his staffers are apparently frantically working on a revised draft of the "Internet Poker Act of 2010" bill. Time is of the essence, as the current session of Congress will likely end on December 17th.
At this point, the draft of the bill is just that - a draft. Here are some of the "developments" that have taken place or been talked about over the past 24 hours:
-the Poker Players Alliance
spoke out in favor of the bill on Monday
-the first US online poker operators will still not be able to get their licenses for 15 months (meaning no online poker in the United States for at least 15 months, at least through a licensed operator),
but the two year period "where the US Department of Commerce could decide if they even wanted to open up the market to include those beyond established US gaming entities"
has reportedly been removed (good news for sites such as Full Tilt Poker and Pokerstars
-speaking of FTP and Pokerstars, the general consensus is that these two sites will almost certainly pull out of the US if this bill is passed in order to remain eligible for a license after the 15 month period has expired
-once the bill has been enacted, sites such as Pokerstars and Full Tilt Poker would have up to 30 days to
stop doing business with players from the US if they want to remain eligible for a license after 15 months
. These US players will then be instructed as to how to withdraw their money
-licensed sites will be required to pay 20% of revenues generated as a "licensing fee"
-there will be "severe" consequences for those sites that need a license to operate but don't have one
--
A couple of analysts had some thoughts about the bill on Monday:
-Brian McGill of Janney Capital Markets apparently told clients of the firm that Reid's bill has a "one-in-three shot" of passing
-Edward Mills of FBR Capital Markets said that "negotiations are very active"
Source:
The Philadelphia Inquirer
--
Filed Under:
Tournament Results
|
Poker Legal Issues