Season 7 of "High Stakes Poker" Still Scheduled To Tape Before Christmas
Published on December 11th, 2010 11:28 am EST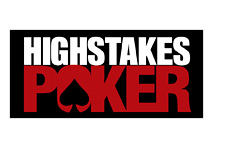 With all of the poker world's attention having been focused on Harry Reid's poker bill over the last few days, it's been easy to forget that the seventh season of "High Stakes Poker" is scheduled to be filmed sometime before the end of the year.
Season seven of "High Stakes Poker" was originally scheduled to be filmed from Nov 18-20th in Las Vegas. In early November, the Public Relations Manager at GSN sent out an email saying that taping of the 7th season of the show had been pushed back to December. There was no reason given as to why the taping was postponed.
Now, with Christmas just two weeks away, nothing formal has yet to be announced. When is the show taping? And, most importantly, who will be playing?
I emailed a contact at Poker PROductions (the production company behind "High Stakes Poker" and other poker shows) and he informed me that "filming of HSP7 will take place later this month at Bellagio."
He also said that "the names of the players have not yet been confirmed."
The only person that I have seen mention the upcoming filming of "High Stakes Poker" over the last while has been Phil Hellmuth, and he stated that he is "50/50 to play right now".
--
So what's going on?
The answer is that it appears as though the battle between Full Tilt Poker and Pokerstars has spilled over into TV's most beloved poker show, "High Stakes Poker".
Barry Greenstein recently reported what he knew about the situation on Two Plus Two.
He said
:
"I talked to Mori yesterday and he told me Full Tilt players are invited to play and he was disappointed that Full tilt is not letting them because pokerstars is sponsoring the show."
Note: Mori is Mori Eskandani, the founder of POKER PROductions
And more
:
"However, Full Tilt has two major concerns. First is they don't like their players playing when PokerStars is the sponsor of the show. (I assume Full Tilt can buy ad time but I didn't check this out with GSN or PokerStars.) Secondly, they were unhappy that PokerStars bought the HSP archives. In the early seasons of HSP, the players didn't wear logos, so FTP is concerned that viewers will be able to go to pokerstars.tv and see the FTP players without logos and be confused by their affiliation."
--
There is no official word yet as to whether or not Full Tilt will actually be holding their players out of the seventh season of "High Stakes Poker". If this does end up being the case, then we obviously won't be seeing players such as Tom "durrrr" Dwan,
Phil Ivey
or Patrik Antonius.
Players who are affiliated with Pokerstars are no longer appearing on "Poker After Dark", and it seems as though Full Tilt players will no longer be taking part on "High Stakes Poker", which is really too bad.
The list of players who will be taking part in the seventh season of HSP should be released sometime this week, but don't be surprised if it doesn't include some of the top cash game players in the world.
--
Filed Under:
Poker on Television