Tom Dwan Poker Profile
When you think of the top poker players in the world, who pops into your mind? Phil Ivey? Doyle Brunson? Patrik Antonius?
If Tom Dwan doesn't immediately jump into your mind, then it should. Dwan is one of the most respected and feared pros amongst his peers. If you asked the likes of Phil Ivey and Patrik Antonius to name their toughest opponents, Tom "durrrr" Dwan would certainly be near the top of both of their lists. Not bad for someone as young as Dwan. Assuming that he doesn't burn out on the game of poker (it's been known to happen) - how good could Dwan be in 5-10 years?
Tom Dwan was born on July 30th, 1986. He is only 22 years of age, but has already accomplished more as a poker player than most can hope to accomplish in a lifetime.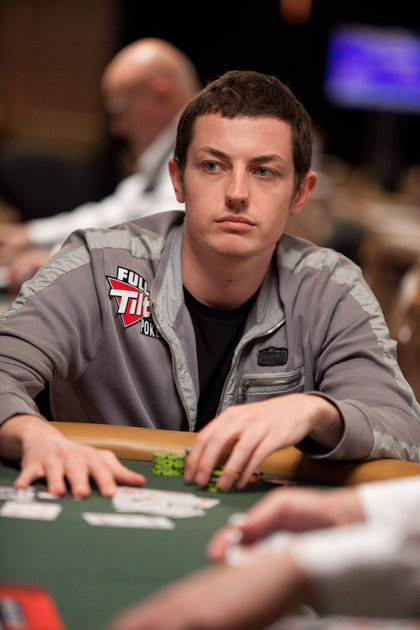 Dwan's story is similar to many other players who made a name for themselves online. He started at the age of 17 with a $50 dollar bankroll. Like many other players, he started out by grinding away at Sit and Go's. Eventually, as his bankroll grew, he made the transition to cash games. He slowly moved in limits, and is now regularly playing the highest live and online limits in the world.
Dwan's story is similar to many other online poker players. What isn't similar is the degree of success that Dwan has experienced in such a short period of time. He has a multi-million dollar bankroll (some estimate his net worth to be as high as $10 million dollars) and a rabid online following. If Dwan sits at any table online, hundreds of railbirds will immediately show up, sweating his every move.
Dwan plays on Full Tilt Poker as "durrrr", and on Pokerstars as "Holdem_NL". He spends most of his time on Full Tilt Poker, and his game of choice is Pot Limit Omaha. He will play No Limit Hold'em when there is a big game, and will sometimes dabble in the mixed games on Full Tilt as well. Dwan doesn't have a sponsorship deal with any online poker room at this time, as none have offered him the type of deal that he feels like he deserves as one of the top players in the world. The standard 100% rakeback / $35 per hour deal at Full Tilt Poker just won't cut it for Dwan.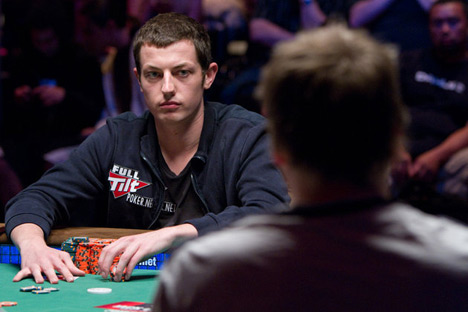 Since the beginning of 2007, Dwan has been one of the biggest winners on Full Tilt Poker. He has banked an estimated $3 million dollars during that time, making him the 5th biggest winner on the site during that time period (behind Phil Ivey, David Benyamine, Di "Urindanger" Dang and Niki "Kaibuxxe" Jedlicka.) Dwan is also known to spend time at some of the biggest "live" cash game tables in Las Vegas, usually playing a PLO / NLHE mix game when he sits down.
Dwan spends most of his time playing cash games, but has still enjoyed a tremendous amount of success in live tournaments so far in his career. Having just barely turned 22 years old, "durrrr" has already racked up almost a million dollars in live tournament cashes. His biggest cash came in the 2007 World Poker Finals when he finished 4th, taking home just over $324k. He also finished second in the 3k Pot Limit Omaha event at the 2008 Aussie Millions for $90k, 2nd in the $5k NLHE event at the 2008 Borgata Winter Open for $226k, and 9th in the 2008 $25k WPT World Championship event for $184k.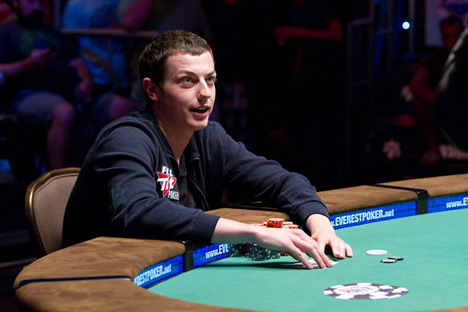 "durrrr" burst onto the scene at the World Series of Poker this year, making a couple of deep runs in both the $5k NL 2-7 Draw Lowball event (he finished 8th for $45k) and the $10k World Championship Mixed Event (he finished 8th as well in that event for $54k). He also participated in some of the biggest cash games that were running during that time, and was frequently seen playing with Phil Ivey, David Benyamine and others.
Dwan has also appeared on "Poker After Dark" a couple of times, which is a testament to the amount of recognition that he gets within the poker community. He finished fourth in the "Nets vs Vets" week that ran in the summer, and then had a strong showing in the first ever cash game week on the show. Many were impressed by his poise and confidence at the table.
If the game continues to hold his interest, then Dwan will surely go down as one of the true greats when all is said and done. He is just barely 22 years old and is already on top of the poker world - how much better can Dwan get?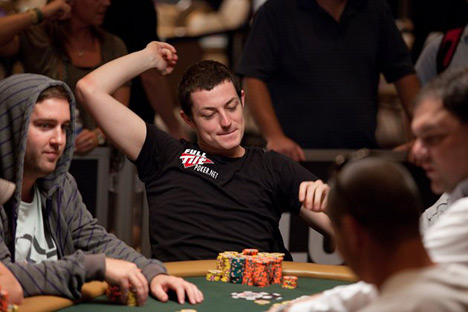 Miscellaneous -
-Dwan and Phil Hellmuth got into a famous altercation following their first round match-up at the 2008 National Heads-Up Poker Championship. Hellmuth, furious after suffering a bad beat (lost when his aces failed to hold up against Dwan's tens pre-flop), lambasted Dwan's play, leading Dwan to challenge Hellmuth to a set of heads-up matches. Hellmuth apparently never took Dwan up on the challenge.
-Dwan grew up in Edison, New Jersey
-Dwan attended Boston University for a short while, intending to pursue a degree in English. He eventually dropped out to pursue a career as a poker player
-was long-time roommates with David "Raptor" Benefield. Both players now live (separately) in Las Vegas
-the two were profiled in a Bluff magazine story titled "Lifestyles of the Sick and Famous". You can read the article
here
.
Photos: GreasieWheels
Recent Poker King Articles That Mention
Tom Dwan:
Triton Super High Roller Series Promises "Biggest Buy-in In Poker History" in 2019
Triton Poker Launches Jeju $1 Million Cash Game
Tom Dwan's Comments on Full Deck NLHE Spark Debate
Tom "durrrr" Dwan Cashes in Triton Poker Short Deck Event
Big Names Confirmed For partypoker MILLIONS Russia in August