Vanessa Rousso Profile 2015





Player: Vanessa Rousso

--

Born in White Plains, New York on February 5, 1983, Vanessa Rousso is a French American with dual citizenship, and fluent in Spanish as well as English and French. Her father, Marc Rousso, is a French executive, and her mother, Cynthia Ferrara, is an American psychologist. At age 3, her family moved to Paris, and she lived there until age 10. In 1993, her parents divorced, and she moved with her mother to Hobe Sound, Florida, where they could be closer to her maternal grandparents.

In Florida, Vanessa was a highly ambitious and successful student, and in 2001, she graduated high school as valedictorian with a 4.0 GPA. She then attended Duke University in North Carolina on a full scholarship. At Duke, she earned a B.A. in economics, and was a member of the Alpha Delta Pi sorority. It was during her studies at Duke that she fell in love with Game Theory, which is the application of complex mathematics to real-world decision-making.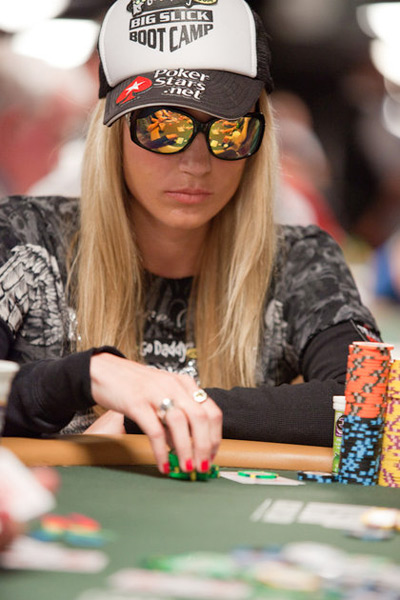 Poker had attracted Vanessa at a young age. She was too young for the casinos, of course, and seldom played, but that interest remained with her. While attending Duke, the online poker craze began, and it was here that Vanessa started to apply her natural intelligence and intuitiveness with what she was learning in Game Theory. In 2003, just two and a half years after starting her college education, Vanessa graduated Duke with her B.A. and, perhaps more importantly, a lot of online poker experience.

After Duke, she began to study law at the University of Miami, but it was here that she cemented her love of Poker. Vanessa was 21 now, and during summer break, after her first year at Miami, she went to the casinos and played poker in a live professional setting for the first time. Armed with her knowledge of Game Theory and her lifelong love of gaming and competition, Vanessa was a natural. She enjoyed immediate success, and by 2005, she was earning money as a professional poker player.

Her first big "win" came in April 2006 in the No-Limit Championship of the World Poker Tour (WPT). Vanessa "only" finished in 7th place, but she walked away with $263,625, and more importantly, earned a great deal of media attention. In fact, that attention led to a sponsorship deal with PokerStars, which she signed immediately after that event. Just several months later, she represented PokerStars as part of Team PokerStars at the World Series of Poker (WSOP), where she finished eighth in the shorthanded no-limit tournament and won $61,955.

The poker event that really put her on the map, however, came in October 2007. At the PokerStars World Championship of Online Poker (WCOOP), Vanessa finished second in the No-Limit Hold'em Main Event, and she took home winnings in excess of $700,000. Her next "big" win came in May 2009 at the European Poker Tour (EPT) High Roller Grand Final, where she won the event overall, and took home a whopping $946,696.

By then, Vanessa Rousso had become a household name in the poker world, but fans and online poker players around the world know her best as "Lady Maverick." Lady Maverick is the screen name or handle that she uses while playing online at PokerStars. She's also appeared on numerous television programs, including Wild Card Poker, Poker After Dark and even Geraldo, and she's had numerous appearances on The Travel Channel and ESPN.

One of her highest profile appearances was a revealing photo in the 2009 edition of the Sports Illustrated Swimsuit Issue. Vanessa Rousso is a highly intelligent and skilled poker player who has earned her notoriety through her play. She's also a highly attractive woman, and many attribute much of her popularity to her sex appeal. In fact, many refer to her as one of the game's foremost sex symbols, and she's often the face of women's poker because of that.

Today, Vanessa Rousso lives with her husband Chad Brown in Vancouver, Canada. Chad is also a professional poker player as well as an actor and a poker color commentator. Vanessa also has a residence with Chad in Las Vegas, which is every professional poker player's home away from home, and she lives part of the year in Hobe Sound, Florida with her mother. To date, at just 28 years old, Vanessa has won more than $3,000,000 in live and online events, and she has placed in the money at the WSOP five times.


Career Highlights:

• April 2006 — WPT $25K No-Limit Championship — $263,625
• July 2006 — WSOP $5K Shorthanded No Limit Hold'em — $61,955
• September 2006 — WPT Borgata Open — $285,450
• March 2007 — Ultimate Poker Challenge Championship —$65,863
• October 2007 — PokerStars WCOOP No Limit Hold'em — $700,782
• January 2008 — Poker After Dark: "Gus and the Girls"— $120,000
• April 2008 — EPT Monte Carlo No Limit Hold'em —$54,116
• September 2008 — PokerStars WCOOP —$59,450
• January 2009 — WPT Southern Poker Championship —$79,117
• March 2009 — NBC National Heads-Up Poker Championship —$250,000
• May 2009 — EPT €25K High Roller Grand Final — $946,696
• January 2010 — PCA Ladies Event —$24,725
• December 2010 — WPT Five Diamond World Poker Classic —$358,964
• May 2011 — EPT Madrid €25,000 High Roller —$148,423


Recent Articles That Mention Vanessa Rousso:

Chad Brown Passes Away

Big Names Turn Out For Day 1c of World Series of Poker Main Event

Mike "The Mouth" Matusow Wins 2013 National Heads-Up Poker Championship

Quarterfinals of National Heads-Up Poker Championship Set

Ivey, Dwan Advance To Second Round of National Heads-Up Poker Championship


View all Poker Profiles