Arnaud Mattern Poker Profile
Arnaud Mattern was born in Paris, France on September 20, 1979. As a child, he loved numbers, especially games that dealt with numbers, like backgammon. He also loved language, and he began learning several, in addition to his native tongue, at a very young age. After high school, Arnaud attended university to study languages, including English, Russian and Spanish. The plan was to use that knowledge as a translator or in a similar profession.
Arnaud, however, had never abandoned his love of backgammon. He had continued to play it all his life, and there were many opportunities to play at school. In fact, the competition there was as fierce as he had ever encountered, and the students often played the game for money. As with all things he put his mind to, Arnaud excelled, and it was then that he realized that he might have a very real opportunity for a career in professional backgammon.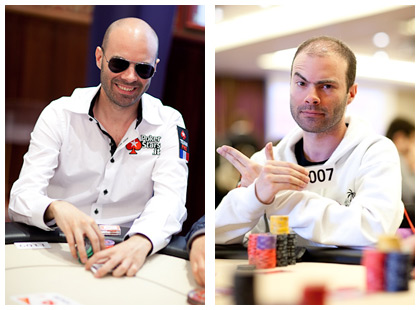 He began to pursue that dream along with his friend and mentor Francois Tardieu and his friend Yomi Peretz. Together, they had good success, and soon, Arnaud chose to leave school and focus entirely on backgammon. It was then that he really began making a name for himself on the professional backgammon circuit.
In 2004 and 2005, he had numerous high-profile finishes in various European events, and the backgammon community considered him one of its most promising players. Nevertheless, the money available to professional backgammon players was not great, and Arnaud desired greater potential.
Play Against Arnaud Mattern at Pokerstars and Get up to $600 Free

Use Marketing Code: THEKING
It was about this time that the popularity of poker worldwide had reached a fevered pitch, and it was very difficult for Arnaud to ignore the money available to those players. In addition, like backgammon, poker is a game of skill and numbers. Over the years, many backgammon players had successfully made the switch and become quite profitable. Backgammon would always be his first love, but it came time for Arnaud Mattern to do the same.
Like so many of today's best players, Arnaud began his career online. He was fortunate because he had backgammon to support him. He continued to play, and in 2006, he even became the French backgammon champion. When not playing backgammon, however, he spent nearly every free moment honing his poker skills. He played every variation of the game he could find online, and if he saw a characteristic he hadn't experienced before, he made it a point to participate.
In 2005, Arnaud earned his first significant poker win at the Italian
Championships. In 2006, later in the year after having become the French backgammon champion, Arnaud earned his second by winning the Gutshot London Poker Masters. Between the two events, Arnaud earned approximately $60,000. That may not seem like much by his standards now, but then, it was much more than he had ever made playing backgammon.
After London, the wins started to come consistently, and Arnaud could support himself on the poker earnings. Almost all of his focus was on poker now, and he played very little backgammon. The money, however, was still not as great as he had hoped for, but his big break would finally come in December 2007 at the Prague event of the European Poker Tour (EPT).
Against a field of 550-plus players, Arnaud Mattern won his first major title, and he took home more than one million dollars in cash. This win changed his life in a couple of ways. Firstly, it gave him the flexibility that he had needed as a professional poker player, and he now had complete control over his career. Secondly, it put him on the map, and it earned him mainstream media attention. Soon after that event, he signed a sponsorship deal with PokerStars, the world's largest online poker room.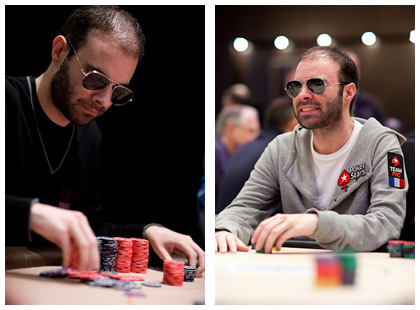 The win also did great things for his confidence, and soon after, he was finishing in the money at major poker events all over the world. He's even finished in the money at the World Series of Poker (WSOP) several times, including a WSOP Europe (WSOPE) top 30 finish in September 2009. He's also had a number of EPT money finishes, including a $91,000+ 5th place showing at EPT Warsaw in 2008, and a $200,000+ 3rd place finish at EPT Tallinn in 2010.
Arnaud Mattern is a force of competitive will. He has already earned more than $2,000,000, and has become one of the most recognized European poker players in the world. His best days are still ahead of him, and few doubt that there is much more popularity and many, many more big wins in his future. For the moment, however, his goals are relatively modest. When asked, Arnaud said that he is just aiming to become France's highest earning player, and then to be the first player to win two EPT titles.
Today, Arnaud Mattern makes his primary home in London, England, and he has a home in Paris, France, where he was born. Like many professional poker players, he spends a great deal of his time in Las Vegas and other poker hotspots throughout the world. He also plays poker online a lot.
Arnaud has been a member of Team PokerStars Pro since signing his sponsorship agreement after winning the EPT Prague event. It's not unusual to see Arnaud playing on PokerStars casually, and he is usually at all of PokerStars' biggest online tournament series. On PokerStars, he uses the handle "frenchkiss," and
when not playing, he is extremely friendly and courteous to fans.
Career Highlights
-2007 WSOP $2,500 No Limit Hold'em- 83rd $4,300
-2007 EPT Prague €4,700 No Limit Hold'em- 1st $1,038,010
-2088 EPT Monte Carlo €500 No Limit Hold'em- 6th $23,419
-2008 WSOP $1,500 No Limit Hold'em- 78th $8,045
-2008 EPT London £5,200 No Limit Hold'em- 51st $14,934
-2008 EPT Warsaw €5,400 No Limit Hold'em- 5th $91,230
-2009 WSOPE £10,000- 23rd $42,729
-2009 EPT London £1,000 No Limit Hold'em- 3rd $33,431
Photos:
Pokerstarsblog.com
Recent Poker King Articles That Mention
Arnaud Mattern:
Viktor "Isildur1" Blom Leads WSOPE Main Event After Day 2
Arnaud Mattern from France Takes Down EPT Prague Poker Tournament
Final Table of the EPT Prague Main Event Now Set