Definition of Freeroll
What does freeroll mean in poker? What is the definition of freeroll in the game of poker?
A freeroll refers to two separate poker occurrences: a hand in which a player can only split the pot or win, and a tournament with no monetary fee.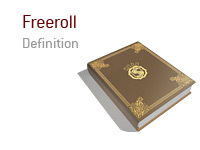 The former type typically only happens in heads-up play with players who have similar hole cards. A player is freerolling when they have a hand such that they will either split the pot with their opponent or win the pot outright. For example, if the cards on the table are 2345 and two players have a 4 and 5, their two pair would tie and split the pot. However, if there are two spades in the community cards and one of the players has two spades in their hole cards, that player has a chance of making a flush on the river and beating his or her opponent. They're said to be freerolling because there is no cost to them in completing the hand.
The other type of freeroll varies in type, but it generally refers to a tourney without an entry fee. However, it doesn't mean that there are no prerequisites for entry. A tournament can require an invitation or a certain number of conditions to be fulfilled and still be called a freeroll. An example would be a tourney consisting of players who won satellite tournaments in order to qualify or a tourney made up of invited poker professionals. The prize money for such a freeroll is put up by the creator or sponsor of the tournament instead of being a portion of the entry fees.
Freeroll is also often used as a synonym for play money tournaments in online poker, even if such tourneys aren't technically freerolls. Most poker sites allow players to play with free fake money or points and also have tournaments for which the entry fee is a certain amount of play money. Since these competitions have a buy-in, they are not literally freerolls, but because they are literally free to play many people refer to them as such.
--
Recent Articles That Include The Term
Freeroll
:
WSOP To Launch in Michigan on Monday
World Series of Poker 2021 Schedule Released
Doug Polk Issues Big Heads-Up Challenge To Phil Hellmuth
GGPoker Signs Dan Bilzerian as "Brand Ambassador"
Massive GG WSOP Super Circuit Online Series Coming in May
Back to the -
Poker Dictionary