Definition of Heads-Up
What does the term "heads-up" mean in poker? What is the definition of the term "heads-up"?
Heads-ups poker is poker against a single opponent. It can occur at tournaments and single-table games after the elimination of every other player, or simply be a prearranged one-on-one game.
Playing heads-up poker is much different than playing even three-handed poker because each player's chance of having the winning hand skyrockets, and the range of what would be considered "playable" hands increases drastically. For example, many players would feel uncomfortable playing a low pair against two or more opponents, but in heads-up poker a single pair is often a winning hand and as such can be played aggressively.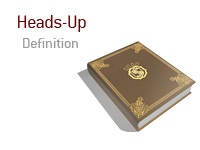 Heads-up matches are often wildly unpredictable and stressful. Even if one player has the vast majority of the chips, a few lucky hands can tip the favor to the opponent's side. Because of this, heads-up matches can last hours and the last player standing is often the one with the most stamina.
Strategies like bluffing and raising are magnified because of the even odds in heads-up poker, so the cards dealt are often less important a player's skill in reading his or her opponent. Many of the poker professionals who specialize in heads-up poker are regarded like dueling cowboys in the Old West, as it takes a certain amount of guts to actively search out heads-up play against top players. Pros known for their ability in heads-up poker include
Phil Ivey
,
Patrick Antonius
,
Tom Dwan
, and Chris Ferguson.
Since 2005, NBC has hosted the National Heads-Up Poker Championship, an invitation-only event attended by some of the biggest poker stars in the world. Past winners have included legendary players like Phil Hellmuth, Chris Ferguson, and Annie Duke. Other pros known for their ability in heads-up poker include Phil Ivey, Patrick Antonius, Gus Hansen, and Tom Dwan.
--
Recent Articles That Include The Term
Heads-Up
:
Garrett Adelstein vs Robbi Jade Lew Hand Explodes Into Mainstream Media
The Time Tom Dwan Almost Won Eight Figures in WSOP Bracelet Side Bets
How The "Texas Gamblers Reunion" Became The World Series of Poker
Scott Seiver vs Phil Hellmuth Set For "High Stakes Duel III" Round 4
Doug Polk vs Daniel "Jungleman" Cates $200/$400 Heads Up Match Set For May 28th
Back to the -
Poker Dictionary