Definition of High Roller
What is a "high roller" as it applies to the world of poker? What is the definition of the term "high roller"?
A "high roller" is a poker player that frequently plays in high stakes games.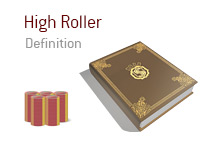 For instance, Phil Ivey, Patrik Antonius and Tom "durrrr" Dwan are examples of "high rollers", as they will frequently play in high stakes cash games and tournaments.
The term "high roller" can also include wealthy individuals who enjoy splashing around in high stakes games. For instance, the high stakes games in Macau will feature a number of extremely wealthy Chinese businessmen, which is why the games are frequented by the likes of Tom Dwan and Phil Ivey.
Examples of wealthy businessmen who are also "high roller" poker players would include Guy Laliberte and David Einhorn.
--
Recent Articles That Include The Term
High Roller
:
Still Crushing: Phil Ivey Continues To Dominate
WSOP Online 2022 Set To Begin on August 14th
Daniel Zack Wins 2022 World Series of Poker POY
2022 World Series of Poker Begins In One Week
Phil Hellmuth Now Set To Face "Mystery Challenger" on High Stakes Duel III
Back to the -
Poker Dictionary