Definition of LAPT
Launched in 2008, the Latin America Poker Tour (LAPT) is a poker series comprising major tournaments in the Latin America region. Since its inception, the LAPT has been the largest poker tour south of the American border.
PokerStars, a major online poker room, is the official sponsor of the LAPT as they are the LAPT's counterparts: the Asia Pacific Poker Tour (APPT), the European Poker Tour (EPT) and the North American Poker Tour (NAPT).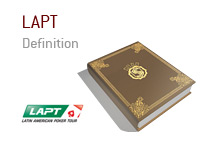 In the LAPT's first season in 2008, it consisted of three events: Brazil, Costa Rica and Uruguay, which served as the main event. In its second season, the LAPT bumped Brazil but added Argentina (main event), Chile and Mexico.
For the third season, the LAPT removed Mexico, re-added Brazil and added Peru. For the fourth season, the LAPT replaced Costa Rica with Columbia, and that first event was the biggest poker game in the history of the country.
Typically, LAPT events are four-day tournaments, and the buy-ins range from $1,000 to $10,000. Each event has a starting bank of 10,000 chips, 60-minute levels and slowly incrementing blinds. Events also include side games.
PokerStars players have options to avoid the buy-in: They can win a seat, including a travel package, through online satellites with low buy-ins, or players can spend the PokerStars T$ (Tournament Dollars) they've accrued.
LAPT event winners usually walk away with at least $150,000. To date, the biggest winnings were $381,030; German Dominik Nitsche won it at the season two main event at Casino Central in Mar del Plata, Argentina.
--
Recent Articles That Include The Term
LAPT
:
Pokerstars Announces New Festival Stops
Humans Continue To Widen Lead in "Brains vs AI" Challenge
Humans Maintain Lead Over "Claudico" in "Brains vs AI" Competition
PCA 2015: Steve O'Dwyer Wins Super High Roller, Josh Kay Wins LAPT Bahamas Main Event
Jose Miguel Espinar Wins Pokerstars.net LAPT Punta del Este Tournament
Back to the -
Poker Dictionary