Humans Currently Up Over $450,000 After 35,700 Hands
Published on April 30th, 2015 2:59 pm EST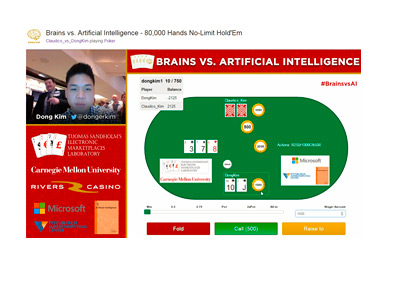 The "Humans vs AI" challenge, which is running until May 8th, is being dominated by the four human players so far.
After 35,700 hands of play, the Human group (consisting of Douglas Polk, Bjorn Li, Dong Kim and Jason Les) is up $458,902 over "Claudico", the artificial intelligence program. "Claudico", which was designed at Carnegie Mellon University's School of Computer Science by Professor Tuomas Sandholm and two of his PhD students, Sam Ganzfried and Noam Brown, recently won an Annual Poker Competition involving other computer programs but is having a harder time dealing with top human players.
Kim, Les, Li and Polk, who are considered to be four of the top heads-up No Limit Hold'em players in the world, are each playing 1,500 hands per day against "Claudico" over the course of the 13-day competition. There will be a total of 80,000 hands played over the course of the competition, with the winner being the group that is ahead at the end.
The four human players are playing on laptops at Pittsburgh's Rivers Casino. These laptops are interfacing directly with the "Claudico" artificial intelligence program that is being run from a computer at Carnegie Mellon University.
-
Here are the results vs "Claudico" by player so far:
Douglas Polk, $400,368
"Claudico", -$400,368
Bjorn Li, $272,479
"Claudico", -$272,479
Dong Kim, $14,121
"Claudico", -$14,121
Jason Les, -$228,066
"Claudico", $228,066
Note: the two sides aren't playing for real money, though the participants are reportedly being paid an appearance fee
Source: Riverscasino.com -
Brains vs AI
--
Filed Under:
Players In The News