Definition of Minimum Buy-In
What does the term "minimum buy-in" mean in the world of poker? What is meant by a minimum buy-in?
In poker, the term "minimum buy-in" refers to the smallest amount that you can buy into a poker cash game for.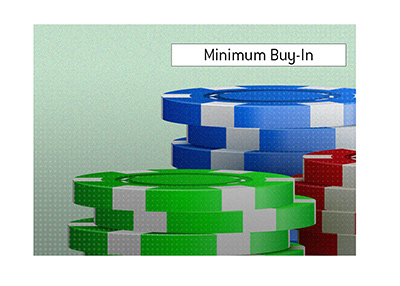 For instance - let's say that you want to sit in an online $1/$2 No Limit Hold'em cash game.
The maximum buy-in is likely going to be $200, while the minimum buy-in may be as low as $40.
Generally speaking, buying in for the minimum is frowned upon by the other players at your table, as most players believe that everyone should start with the same amount of money on the table. In addition, playing with a much smaller stack changes the way that most people play (they will utilize a short-stack, push or fold strategy in many cases), which can frustrate the people who want to play deep-stacked poker.
Buying in for anything other than the maximum is certainly not against the rules.
--
Recent Articles That Include The Term
Minimum Buy-In
:
"Rumble With Jungle" Coming on "Poker After Dark" Next Week
Tom Dwan Set To Return To "Poker After Dark"
WPT Alpha8 Coming to FS1 in 2014
Sunday Night News: Boeree's Big Win and $150k Cash Game on "Poker After Dark"
"Poker After Dark" Extended Through 2014; Season Seven Details Released
Back to the -
Poker Dictionary