Definition of Open Seat
What does the term "open seat" mean in poker? What is the definition of the term "open seat"?
In poker, an "open seat" means that there is a spot available for a player to sit down and join a game.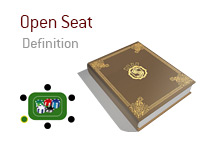 Let's look at an example to fully illustrate this definition:
Example
You have just arrived at your local casino, and put your name on the list for $1/$2 No Limit Hold'em cash games. There are currently four such tables in operation. It's a busy night, so you aren't expecting a seat for some time.
After about 45 minutes, you hear a dealer call out "Seat Open!" Your name is called, and you are told that there is an open seat at one of the tables, as somebody else has busted and decided to leave for the night.
You take your chips to the open seat, sit down and join the game.
Likewise, you can take an "open seat" at a virtual (online) poker table as well.
--
Recent Articles That Include The Term
Open Seat
:
Super High Roller Bowl Lottery Set For March 21st
Super High Roller Bowl Set to Get Underway Next Week
Back to the -
Poker Dictionary