Definition of Reload Bonus
What is the definition of a "reload bonus" in the world of online poker? What does the term "Reload bonus" mean?
Operating an online poker site is a very lucrative yet very competitive business.
In order to keep their clients happy (and in order to keep their clients paying rake), sites will frequently offer something called a "reload bonus".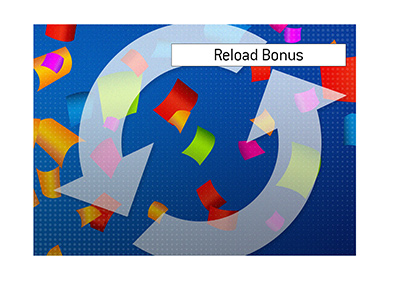 A "reload bonus" is a bonus that is available to existing customers.
This bonus will be activated if a customer decides to deposit more money onto a site.
For instance, let's say that a client hasn't played on a site for a year.
In order to try and lure this customer back to the site, an online poker company may offer a reload bonus.
For instance, they might say to the customer - if you deposit $600 or more over the next 14 days, we will give you a reload bonus of up to $600.
So, if the player deposits $600 or more and fulfills the playing requirements to release the bonus, they will earn themselves an extra $600.
Online poker sites will do this in order to keep people playing. They have crunched the numbers and found that it is a great way to retain clients over the long-term.
Small online poker players will take advantage of these offers whenever they come up. Make sure that you give your favourite online poker sites an email address that you check regularly, so that you won't be shut out of reload bonus offers.
-
A reload bonus offer is different from an initial deposit bonus offer, as the initial deposit bonus offer is available only to new customers.
The reload bonus offer, on the other hand, is available to everybody.
--
Recent Articles That Include The Term
Reload Bonus
:
Pokerstars News: 2011 WCOOP Schedule Released, New Reload Bonus
Going Through Changes
Two New Bonuses at Pokerstars
ShoesRDurrty Turns Freeroll Entry Into 800k Cash In WCOOP Main Event
Back to the -
Poker Dictionary