Many Things Will Change Post "Black Friday"
Published on April 17th, 2011 6:11 am EST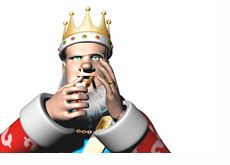 The poker world was permanently altered this past week after the Department of Justice and FBI brought multiple charges against the founders of Pokerstars, Full Tilt Poker and AP/UB. I won't rehash the story, as you undoubtedly know all of the details by now.
The poker world has been shaken and permanently transformed by the events of "Black Friday". Let's take a look at some of the changes that will probably come about as a result of April 15th, 2011:
(In no particular order)
-Party Poker will gain massive market share over the coming weeks and months, at least until online poker legislation finally passes in the US. Pokerstars and Full Tilt Poker are both still leading the way as of this moment (by a large margin), but I think that non-US players are going to flock in droves to Party Poker over the coming weeks and months. Party Poker is going to be seen as the safer choice and is also going to be very aggressive in drawing in new and old customers - they have already announced the launch of a new reload bonus offering to coincide with FTP's and PS's recent troubles. The key for FTP and PS at this point is to stabilize the system for non-US players
-some of the sponsored PS and FTP tours are going to be shut down (Bluff Magazine has already reported that FTP has canned the Onyx Cup and the NAPT is likely dead as well).
-there is almost certainly going to be a massive culling of sponsored FTP and PS pros, especially those who mainly appeal to the US market. Pokerstars has made a marked effort to sign players who appeal to markets outside of the United States, so they will probably end up cutting far less players than Full Tilt Poker. I wouldn't be surprised if there is some sort of language in a typical sponsorship deal that allows the site to terminate the deal early for pretty much any reason (especially being forced to pull out of the US market)
-shows such as "High Stakes Poker" and "Poker After Dark" are almost certainly dead. Both shows are basically promotional vehicles for PS and FTP respectively, and I can't see them continuing to air if neither site accepts players from the US market. A show like "Poker After Dark" is just paid programming - FTP pays NBC for the time slot, similar to an infomercial. I could see both GSN and NBC refusing to air any more episodes due to the shows affiliations with PS and FTP, but I guess we'll see. At the very least, I can't see any new seasons being filmed beyond the current one
-the World Series of Poker is going to suffer greatly until online gambling legislation is finally passed in the United States, and then it will likely recover. Time is of the essence though - if online poker legislation doesn't pass in the next couple of years, then many people are going to lose interest in poker and the WSOP, which will permanently damage tournament series' numbers
-I would imagine that the competition for non-US players will become even more fierce now that FTP and PS aren't able to reap the rewards of remaining in the US market. I would expect that non-US players will benefit from this increased competition in the form of better bonus offers, reload bonus offers, etc.
-the "durrrr" Challenges are obviously over, as "durrrr" is unable to play on FTP - I wonder how the two Challenges will be settled
-the major poker media sites are obviously going to have to cut back significantly on their spending in order to stay afloat (I don't see how they could avoid this). This will almost certainly mean that there will be much less coverage of live events such as the World Series of Poker, etc. It will be interesting to see who ends up with the rights to cover the WSOP over the next couple of years (Pokernews has had the rights over the past couple of years)
-many MMA fighters are going to be significantly impacted by "Black Friday" as well. Full Tilt Poker in particular has been a very active sponsor of MMA fighters over the past couple of years - it only makes sense that they will be significantly cutting back on these sponsorships or eliminating them altogether.
This article goes into a bit more detail
regarding the impact to MMA fighters.
-US players are going to flock to rooms that decide to take the risk and stay open to US players. How long will these rooms remain open to US players? How will they process deposits and withdrawals? These rooms are going to attract a great deal of attention if everybody suddenly starts playing there - it will be interesting.
-there will likely be an initial burst of activity in "live" poker rooms across the United States, but I think that this initial burst of activity will quickly fade out. With limited online poker options and dwindling poker content on TV, I think that many people will lose interest in poker, at least temporarily (until legislation comes along *hopefully*)
-Pokerstars and Full Tilt Poker may expect their "big" names to become much more active on the "live" tournament circuit, especially in events outside of the United States. As mentioned, competition for new players outside of the United States is going to be even more fierce than before. I can see names like Tom Dwan and Phil Ivey being much more active on the tournament circuit in the near future - what else are they going to do?
-I'm not sure exactly what ESPN is going to do with their coverage of the WSOP, but I would imagine that it will be much less substantial in the coming years if online poker legislation isn't passed in the country
-in general, many reporters, writers, web designers, etc are going to be seriously impacted by what has transpired - many people will lose their jobs.
-the push for online poker legislation in the United States will be red-hot over the next couple of years. Let's hope that this legislation (which is going to pass eventually) comes sooner rather than later. The one positive out of all of this is that people are going to be even more motivated to rally behind online poker legislation in the United States. If millions of people in the US speak loudly enough, then maybe the right people will finally listen.
--
Filed Under:
Poker Legal Issues