Definition of Session
What does the term "session" mean as it applies to the world of poker? What is the definition of the term "session"?
In poker, a "session" is the period of time in which you play a game (or games) of poker. A session begins when you play your first hand, and a session ends when you decide to take anything more than a short break.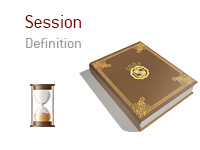 For instance - let's say that you sit down to play some online poker. You decide that you are going to sit at four tables of $1/$2 No Limit Hold'em.
After four hours, you decide to take a break and go and get some lunch. The four hours that you just played was a "session". For instance, you could say "I ended up making over $1,000 during that four hour session" or "I always play my best poker right at the end of a session, I'm not sure why."
--
Another example - some people will have a "maximum pain" point for any session. For instance, you may decide that you are not willing to lose more than $500 in any single session.
You sit down at your local casino and decide to play in a $1/$2 No Limit Hold'em game. After a rough first hour, you are down $500.
Despite the fact that you were planning on playing for much longer, you decide that today is not your day, so you pack up your things and leave the casino. You decided ahead of time that if you dropped $500 during your "session", you would leave and go home.
--
Recent Articles That Include The Term
Session
:
What Is The Record for Most Entrants in The World Series of Poker Main Event?
Bill Perkins Jumps Out To Early Lead in Match Against Landon Tice
Fedor Holz Handily Beating Wiktor "Limitless" Malinowski in Heads-Up Challenge
Another One: Fedor Holz and Wiktor Malinowski To Start Heads-Up Challenge This Friday
Doug Polk Wins; Challenge Against Daniel Negreanu Comes To An End
Back to the -
Poker Dictionary