Definition of Wash
In poker and other card games, the term 'wash' has a couple of meanings, all along the same theme. The core idea of 'washing' is to ensure fairness or to demonstrate honesty to the players participating in a cash game.
For a croupier, to wash means to rub the hands over when he or she leaves the table to show that they are not taking any chips with them. This demonstration is known as washing; it is a traditional practice and still common.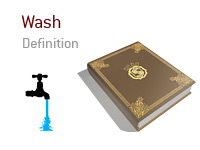 To wash also refers to "cleaning" a deck of cards to eliminate non-randomness. With an unwashed playing deck, a skilled dealer could deal predetermined hands, so obvious washing is a way to ensure that cheating does not occur.
In modern scenarios, card washing typically only occurs when the dealer puts a new playing deck into play. Generally, new decks are arranged sequentially, so a wash is necessary in order to ensure fair play for the table.
Typically, the dealer washes the deck by spreading the cards out and mixing them across the poker table before re-gathering them. The wash does not, however, replace the standard shuffle, which always follows the wash.
All players at a poker table have the right at any point to request that the dealer wash the deck. However, this is rare in modern times. The dealer simply washes new decks when they come into play and that is usually enough.
Card washing is much more important in private high-stakes scenarios, especially when the dealer is also a player and deal rotates around the table. In this scenario, a person could use the deal to their personal advantage.
--
Recent Articles That Include The Term
Wash
:
Daniel Negreanu Leads Super High Roller Bowl After Day 1
Governor Chris Christie To President Trump: Don't Ban Internet Gambling
Bryan Micon Charged With Felony in Nevada
SealsWithClubs.eu Shuts Down After Raid on "Chairman" Bryan Micon's Residence
All Eyes on the Omnibus Bill
Back to the -
Poker Dictionary