Filippo Candio Poker Profile
Filippo Candio is a member of the 2010 "November Nine" and will have 16,400,000 in chips when the final table gets under way in November.
--
According to his profile on WSOP.com, Filippo Candio currently resides in Cagliari, Italy.
Candio's profile states that he has a passion for business (like a number of other players at the final table) and that he has his own line of poker-themed clothing.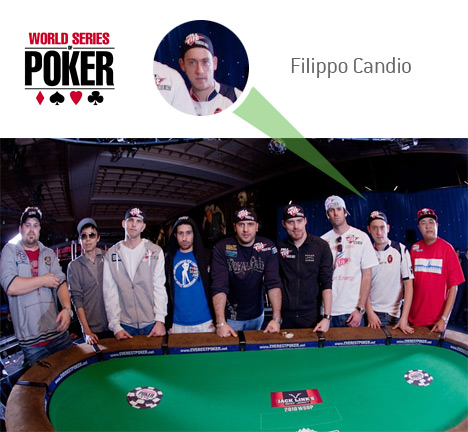 Filippo Candio had just under $250k in total lifetime "live" tournament cashes coming into the main event, with his largest ever cash coming in the 2k Euro Campionato Italiano main event in January of 2009. For his victory in this event, Candio took home approximately $185k.
Other sizable cashes in his career have included:
-2010 EPT Deauville Main Event, 97th, $11,467
-2009 500 Euro NLHE IPT San Remo 4, 2nd, $11,139
-2008 300 Euro NLHE Royal Poker Tour, 2nd, $8,668
In addition to his sizable main event cash (which could end up being nearly $9 million), Candio also cashed in a $1,500 NLHE event at the 2010 World Series of Poker (157th, $3,460).
--
Filippo Candio is probably best known for two things, both of which occurred on Day 8 of the World Series of Poker main event:
1. His hand against Joseph "subiime" Cheong.
Candio had called a pre-flop 3-bet from Joseph Cheong, and the two players had taken a flop of 6h-5c-6c. Cheong led out with a bet of 1.5 million, Candio raised to 4.4 million, Cheong shoved and Candio called after a bit of thought.
Everything was at stake for Candio - if he lost this hand, then he would be out of the tournament.
The two players flipped over:
Cheong - A-A
Candio - 7s-5s
Candio had staked his tournament life on a lowly pair of fives.
However, the poker gods were smiling down on Candio on Day 8 of the World Series of Poker, as the board ran out:
8-4
..to give Candio the improbable straight. Candio had been rescued from the brink of elimination, and he now has a chance to win nearly $9 million as a result.
2. Candio's ultra-tight play during the "November Nine" bubble.
Reading the updates during 10-handed play, you wouldn't even have known that Candio was still in the tournament. He was perfectly content to fold nearly every hand en route to the "November Nine". When Candio DID play a hand, it was a premium holding (like Aces).
Some people chose to open up their play a little bit during the bubble (like John Dolan), while others chose to shut it down (like Candio).
--
Does Filippo Candio have what it takes to compete against the likes of Michael "The Grinder" Mizrachi at the final table in November? We'll soon find out..
Source: WSOP.com -
Filippo Candio Profile
Photo: GreasieWheels
Recent Poker King Articles That Mention
Filippo Candio:
Jonathan Duhamel vs John Racener For The WSOP Main Event Title
The World Series of Poker Main Event Final Table Is Just Days Away
WSOPE Update: Day 1 of Main Event In the Books, Hansen vs Collopy Delayed Again
Final Table Set in 25k High Roller Freeze-Out at 2010 Full Tilt Poker Merit Cyprus Classic
2010 "November Nine" Betting Odds Released