Jonathan Duhamel and John Racener To Battle for WSOP Main Event Bracelet on Monday
Published on November 7th, 2010 5:21 am EST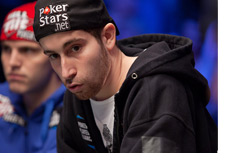 Jonathan Duhamel. John Racener. One of these two men will be crowned the 2010 World Series of Poker main event champion on Monday evening.
Jonathan Duhamel will enter heads-up play on Monday as the MASSIVE chipleader, as he managed to finish today with nearly 189 million in chips (according to preliminary counts).
John Racener will have his work cut out for him if he wants to take down the bracelet on Monday, as he will enter the final day of play with approximately 30.75 million in chips.
Joseph Cheong was the final player to be eliminated on Saturday (actually, early Sunday morning). Cheong and Duhamel seemed destined for a heads-up confrontation on Monday until the two players got involved in a MONSTER pot (reportedly the largest single pot in WSOP main event history) against each other.
Before the pot took place, Cheong and Duhamel both had in excess of 90 million chips, far more than the third place player,
John Racener
.
Cheong and Duhamel got into a raising war pre-flop that saw the two players get all of their chips into the middle. They flipped up:
Duhamel - Qc-Qd
Cheong - As-7h
The crowd was stunned when Cheong flipped over As-7h.
The board ran out 9h-3d-2c-6s-8s, giving Duhamel the monster pot and the massive chip lead in the tournament.
Cheong made his final stand with Qs-10c a short while later, only to be called by the As-2c of Jonathan Duhamel. The board ran out Ks-9c-6c-6h-7c, eliminating Cheong in third place for $4,130,049.
--
Here is how the final table has gone so far:
1.
2.
3. Joseph Cheong, $4,130,049
4. Filippo Candio, $3,092,545
5. Michael Mizrachi, $2,332,992
6. John Dolan, $1,772,959
7. Jason Senti, $1,356,720
8. Matthew Jarvis, $1,045,743
9. Soi Nguyen, $811,823
--
Michael Mizrachi made a big move early on Saturday, and at one point held the chip lead. Everything seemed to be going Mizrachi's way until a fateful hand with
Jonathan Duhamel
.
Action folded around to Duhamel. After a Duhamel raise from the SB, "The Grinder" pushed all-in from the BB. Duhamel called, putting himself at risk. The two players turned over:
Mizrachi - 3h-3s
Duhamel - As-9h
The board ran out Kh-9d-5d-9c-Jh, giving Duhamel a key double-up and sapping "The Grinder" of his momentum.
The end of Mizrachi's magical run at the 2010 World Series of Poker also came courtesy of Jonathan Duhamel. Duhamel limped in from the SB and Mizrachi checked. After a flop of 5d-4s-Qc, the hand suddenly sprang to life, and both players were shipping their stacks into the middle. The two players turned over:
Mizrachi - Qd-8h
Duhamel - Ad-Ac
Duhamel had trapped "The Grinder" with his pocket Aces, and Mizrachi would now need some help to stay alive in the tournament.
The board ran out Jd-Kd, eliminated Michael "The Grinder" Mizrachi in 5th place for $2,332,992.
--
Can Jonathan Duhamel close out John Racener to take down the bracelet, or will Racener make a memorable comeback? We'll find out when action resumes on Monday.
Photo: GreasieWheels.com
--
Filed Under:
Tournament Results