James Dempsey Poker Profile
James Dempsey, known as "Flushy," "Dr. Demps" and even "The Norse God" to some, is a fast-rising UK professional poker. He currently makes his primary home in Brighton, England, although like many professional poker players, he spends a great deal of his time in Las Vegas and even has a home there.
Many people find their way to professional poker by chance. It wasn't
that way for James. He played and loved the game as a young person, and he knew from very early on that this is what he wanted to do. Of course, as it is for many of us, it didn't all go according to plan. His progress was slow and inconsistent, and there was a time when James Dempsey felt that he might never break through.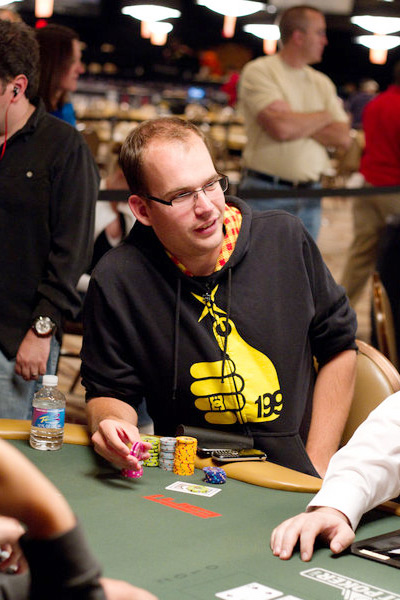 Dempsey persevered, however, and he finally got that first big
confidence-building win at the 40th Annual World Series of Poker (WSOP) in 2009. In the $2,500 Omaha Hi-Low Split-8 or Better event, he finished 14th overall and took home more than $12,500. The real kicker was that he was so close to winning more, much more, but it was a great experience. In fact, it set him up for the following year's WSOP event, where he won his first major event and a bracelet too.
That event was the WSOP $1,500 Pot Limit Hold'em, and by winning it, he took home nearly $200,000 in winnings. It also garnered him a great deal of attention from media and sponsors. The media attention would put him on the map and in the minds of fans. The other attention came from some of the biggest sponsors in the industry, including PartyPoker. James is still a PartyPoker pro. He plays there regularly and is often involved in their high-profile online events.
Among friends, family and schoolteachers, James has a reputation for being tardy. That little secret may have remained with his inner circle for all time except that his tardiness reared its head when he won his bracelet at the 2010 WSOP. The final table kicked off at 2:30 p.m., but James didn't arrive until 2:45 p.m. By then, the cards were in the air, and the house was blinding chips off his stack. That
didn't stop James, however. He recovered and went on to win the whole shebang. That's James Dempsey in a nutshell. It's what people love about him.
At that same WSOP, Dempsey participated in two other events after winning his bracelet. The first was the $5,000 No Limit Hold'em event where he finished 69th overall and won about $10,500. His third event at the WSOP was the $10,000 Omaha Hi-Low Split-8 or Better Championship. He finished runner-up in that event, and walked away with more than $300,000. So in just one WSOP, Dempsey seized a bracelet, financial flexibility and attention from fans, media and sponsors alike.
By the end of the next WSOP, Dempsey had won more than $750,000 altogether. He then participated in his first WSOP Europe (WSOPE). Interestingly, despite being a European player, almost all of his success had come in the States. With his newfound financial flexibility, Dempsey planned to broaden his horizons with showings at the WSOPE and other European events as well as the World Poker Tour (WPT), which extends throughout Europe and North America and the rest of the world.
Despite his broadened focus, Dempsey's next big win, the biggest of his career, in fact, would come at the Bellagio in Las Vegas. The WPT Five Diamond World Poker Classic had a $10,000 buy-in and a field of 413 strong. More importantly, that field consisted of most of the best professional poker players in the world. This was by far the stiffest competition James Dempsey had ever faced, and he didn't just do well, he won it all, and he did it in style, walking away with more than $800,000.
As 2011 draws to a close, James "Flushy" Dempsey has accumulated more than $1.5M in a little over two years. His goal for 2012 is more of the same but also to have a better showing in his home country as well as other events in Europe. With more financial flexibility, increasing sponsorship and more event options, James has all the tools to do it.
He'll get his first shot at the next WPT event, which takes place in Venice, Italy. The poker world is expecting big things from Dempsey in 2012.
Career Highlights
-2009 WSOP $2,500 Omaha Hi-Low Split-8 or Better - 14th $12,667
-2010 WSOP $1,500 Pot Limit Hold'em - 1st $197,470
-2010 WSOP $5,000 No Limit Hold'em - 69th $10,497
-2010 WSOP $10,000 Omaha Hi-Low Split-8 or Better Championship - 2nd $301,789
-2010 WSOP $1,000 No Limit Hold'em - 277th $2,110
-2011 WSOP $1,500 Omaha Hi-Low Split-8 or Better - 35th $6,868
-2011 WSOP $5,000 No Limit Hold'em Shootout - 39th $13,368
-2011 WSOPE €3,200 No Limit Hold'em Shootout - 9th €16,637
-2011 WPT $10,000 Five Diamond World Poker Classic Main Event - 1st 821,612
Photo: GreasieWheels.com
Recent Poker King Articles That Mention
James Dempsey:
"Durrrr" Loses, 500+ Entries For Doyle Brunson Five Diamond World Poker Classic and More
Aussie Millions Update: Dan Smith Wins $100k Challenge, Day 1b of Main Event Completed
James Dempsey Wins Doyle Brunson Five Diamond World Poker Classic
"ArielBahia" Takes Down FTOPS XX Main Event
Men "The Master" Nguyen Falls Just Short of Winning His Eighth World Series of Poker Bracelet