"Jungleman12" Finishes 2010 With Profit of Over $5.5 Million on Full Tilt
Published on January 1st, 2011 10:31 am EST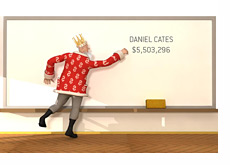 2010 was quite a year for Daniel "jungleman12" Cates. When he is old and gray and on his death bed, Cates will surely regard 2010 as being one of the best years of his life.
It was only a few short years ago when Daniel Cates was working at McDonald's. Fast forward to the end of 2010, and Cates is now a multi-millionaire.
According to HighStakesDB.com, Daniel "jungleman12" Cates posted a profit of $5,503,296 on Full Tilt Poker in 2010. This made Cates the most profitable player on the site by far, as he finished far ahead of players such as Andreas "
skjervoy
" Torbergsen ($3,778,763) and Tom "durrrr" Dwan ($3,607,939).
Cates' $5.5 million+ in total profits came over a total of 145,212 tracked hands, meaning that he made nearly $38 in total profit for every hand that he played on Full Tilt in 2010.
Cates really burst onto the high stakes scene in May, when he was able to win nearly $1.3 million and finish as the biggest winner on
Full Tilt Poker
for the month. He followed this up with a $1.1 million gain in August, finishing second on the month behind the one and only Phil Ivey.
The eyes of the poker world would really become transfixed on Cates when it was announced in August that he would be taking on Tom "durrrr" Dwan in the second "
durrrr Challenge
". Could this relative newcomer to the high stakes cash game scene actually outduel Tom "durrrr" Dwan in a 50,000 hand battle? The expectations were for a quick and volatile battle between the two players when the challenge got underway in late August. Cates jumped out to a quick lead in the challenge, and he currently sits with a total profit of $500,783 after 14,190 hands. The challenge has gone seemingly ground to a halt over the past few months, but Cates still has to be happy with the fact that he is ahead with the challenge nearly 30% done.
Over the past 3-4 years, we've seen a number of players make millions in the high stakes cash games on Full Tilt Poker, only to spectacularly flame out, never to be heard from again. Can "
jungleman12
" avoid the same fate and become a long-term fixture in the biggest online games, or is he destined for a bankroll-busting downswing?
Source:
HighStakesDB.com
--
Filed Under:
Cash Games