The First "durrrrr Challenge" Started In February of 2009
Published on February 16th, 2011 9:03 pm EST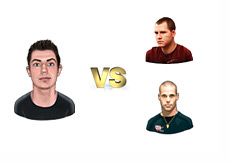 In early 2009, Tom "durrrr" Dwan officially issued his "challenge" to the poker world (well, everyone in the poker world except for Phil Galfond).
In an effort to generate some action, Dwan offered some extremely enticing odds to his would-be opponents. If Dwan won the "challenge", then his opponent would need to pay out $500,000. If Dwan lost the "challenge", then his opponent would receive a $1.5 million payday (in addition to any money that was won during the course of the 50k hand challenge).
The rules were fairly simple. A minimum of 50,000 hands. Four tables of heads-up NLHE or PLO at a time (minimum $200/$400). Dwan's opponent could choose the game. The winner would be the player who was up at least a dollar after 50k hands.
There were a few other rules, but that was the basic idea of the challenge.
A number of players reportedly accepted the challenge. On January 6th, 2009,
Phil Ivey
announced on Pokerroad.com that he had officially accepted the challenge. Ivey also revealed that
Patrik Antonius
and David Benyamine had also accepted.
David Benyamine
was originally rumored to be Dwan's first opponent, but Patrik Antonius ended up getting the nod. The thought (at the time) was that the challenges would be completed in a few months, and that Benyamine, Antonius and Ivey would all end up getting their shot at Dwan.
In February of 2009, Full Tilt Poker added eight special "durrrr Challenge" tables and started promoting the Dwan vs Antonius match on their site. The hype machine was in full swing, and the online poker community was waiting for the start of the battle with great anticipation.
In mid-February of 2009, the battle between Dwan and Antonius got underway, with Dwan winning about $134k over a 1,500+ hand session. The "durrrr Challenge" had started.
--
In August of 2010, "durrrr" Challenge #2 started between
Tom "durrrr" Dwan
and Daniel "jungleman12" Cates, despite the fact that the first "durrrr" Challenge was still in progress. After a promising start, the battle between Antonius and Dwan had ground to a halt, with Dwan building up a very large lead.
Antonius and Dwan had played infrequently from February '09 to August '10, only hooking up for the rare short session.
The Antonius/Dwan battle had proven to be a disappointment. Surely the "durrrr"/"jungleman12" battle would prove to be much more exciting?
--
Despite getting off to a strong start, the second "durrrr Challenge" has also ground to a halt.
Two years have passed since the first "durrrr Challenge" got underway, and we still haven't had a winner declared in either of the two challenges that are still ongoing.
Dwan currently maintains a $2,059,719 lead over Antonius in challenge #1. Antonius and Dwan have played 39,436 of the required 50,000 hands in their match. The last session between the two took place in August of 2010.
In the second "durrrr Challenge", "
jungleman12
" holds a $819,213.50 lead after 17,108 hands. The last session between Dwan and Cates was played about 1 1/2 months ago on January 4th.
--
When the original "durrrr Challenge" started in February of 2009, I don't think that anybody imagined that it would take more than two years to finish..
Source: Poker King -
"durrrr" Challenge Page
--
Filed Under:
Cash Games