Scott "urnotindangr" Palmer Leads After First 2,500 Hands
Published on April 4th, 2011 12:31 am EST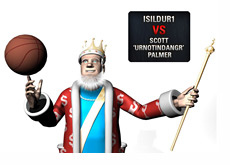 Scott "urnotindangr" Palmer and Viktor "Isildur1" Blom played the first 2,500 hands of their "Superstar Showdown" match earlier today, with Palmer finishing with a profit of $5,425.
The winner of the match will be the player who is up after a total of 5,000 hands have been completed. The second half of the Palmer/Blom battle will begin next Sunday at 3 pm EST.
"Isildur1" had a sizable lead right near the end of today's battle, but a very large pot with just a few hands to go gave "urnotindangr" a small advantage heading into next Sunday.
Prior to the hand getting underway, "
urnotindangr
" had roughly $30k in his stack (at this particular table), while "Isildur1" had just over $45k.
Palmer called a standard pre-flop raise from "Isildur1", and the flop came:
5c-2h-2d
"urnotindangr" checked, "
Isildur1
" bet $500 and "urnotindangr" called.
The turn brought the 7d.
"urnotindangr" checked, "Isildur1" bet $1,400 and "urnotindangr" called.
The river brought the 4d.
"urnotindangr" checked yet again, "Isildur1" bet $2,850, "urnotindangr" raised to $8,600, "Isildur1" pushed all-in and "urnotindangr" made the call for about $18,625 more.
The two players turned over:
"Isildur1" - 8d-10s
"urnotindangr" - 5h-5s
"urnotindangr" took down the $60k pot with his full house, Fives full of Twos.
--
As mentioned, Scott Palmer and
Viktor Blom
will finish up their match next Sunday.
"Isildur1" is currently 5-2 in "
Superstar Showdown
" matches, with wins against Tony G,
Daniel Negreanu
, "Dodgyfish72", Daniel Cates and Eugene Katchalov. Blom's two losses have come against Isaac Haxton and Daniel Negreanu (rematch).
--
Filed Under:
Cash Games
|
Online Poker Rooms