Principals of Pokerstars, Full Tilt Poker and AP/UB Charged With Fraud, Other Offenses
Published on April 15th, 2011 11:05 pm EST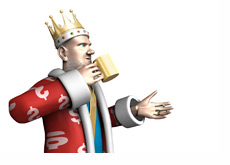 Earlier today, US prosecutors dropped a nuclear bomb on the online poker world after announcing that they had charged the founders of Pokerstars, Full Tilt Poker and AP/UB with multiple offenses, including bank fraud, money laundering and illegal gambling offenses.
Five domain names, including Pokerstars.com, FullTiltPoker.com and UB.com, were seized by the government. Depending on where you are situated in the world, you may see a warning from the FBI when you try to visit any of these domains.
In addition, "75 bank accounts utilized by the Poker Companies and their payment processors" have had restraining orders issued against them. Bank accounts in a total of 14 countries have reportedly been seized.
The Justice Department also announced that they would be seeking "at least" $3 billion in civil money laundering penalties and forfeiture from the companies and defendants that were named in the action.
Some of the defendants include:
Isai Scheinberg (PS)
Ray Bitar (FTP)
Scott Tom (AP)
The action has been brought by Preet Bharara, the US Attorney for the Southern District of New York and Janice Fedarcyk, the Assistant-Director-in-Charge of the New York Field Office of the Federal Bureau of Investigation.
Bharara had this to say: "As charged, these defendants concocted an elaborate criminal fraud scheme, alternately tricking some US banks and effectively bribing others to assure the continued flow of billions into illegal gambling profits. Moreover, as we allege, in their zeal to circumvent the gambling laws, the defendants also engaged in massive money laundering and bank fraud."
At last check, US players are being excluded from real money play on Pokerstars.
Full Tilt Poker has apparently just released a statement in which they have announced that real money play in the United States is suspended until the case against Bitar and the others named in the case is resolved.
--
There are obviously many questions that have to be answered right now, including:
-when will US players receive their money that is currently frozen?
-when will normal activity resume for non-US players?
-will FTP and PS collapse as a result of this action, or will they continue to serve non-US players once things settle down?
-what will this action mean for online poker regulation?
--
A few more points of interest:
-the URL on the Pokerstars Twitter account has been changed from pokerstars.com to pokerstars.eu
-the Wynn/Pokerstars and Fertitta Interactive/FTP deals are apparently dead
-Daniel Tzvetkoff, who was arrested a year ago, was believed to be instrumental in helping US authorities build their case
--
Much more will obviously come out in the coming hours and days and weeks.
--
Filed Under:
UIGEA
|
Poker Legal Issues