Full Tilt Poker Traffic Down 48% From Last Week
Published on April 18th, 2011 4:20 pm EST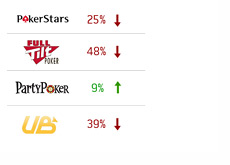 Pokerscout.com (link below) has released their Weekly Online Poker Traffic Update which provides a very interesting look at the online poker industry post-"Black Friday".
Pokerscout.com compared the traffic from this past weekend (the weekend after "Black Friday") to the previous weekend.
No surprise - Pokerstars, Full Tilt Poker and the Cereus Network all posted large declines from the previous weekend. Here are the numbers:
Full Tilt Poker - Down 48%
Cereus Network - Down 39%
Pokerstars - Down 25%
Pokerstars has been working very hard over the past couple of years to continue their expansion into non-US markets, and their efforts have definitely paid off. Even without their US base of players, Pokerstars only saw their traffic decline 25%, which is quite the achievement.
Full Tilt Poker, on the other hand, has suffered a near 50% haircut in traffic thanks to "Black Friday".
--
Predictably, the sites and networks that are still serving US players have seen their traffic grow considerably from last week.
Bodog has been the biggest winner so far, posting a 26% gain in traffic over last week. The Merge Gaming Network (up 23%) and the Cake Poker Network (up 19%) have also posted healthy gains over last week.
--
The sites and networks that elected to pull out of the United States back in 2006 have also experienced an uptick in traffic, as many non-US players have decided to move to calmer waters in light of recent events.
Party Poker, which used to be the top dog in the online poker world, has experienced a 9% uptick in traffic over last week.
PKR (up 21%), 888Poker (up 5%) and the iPoker network (up 4%) have all posted sizable increases over last week as well.
--
Source:
PokerScout.com
--
Filed Under:
UIGEA
|
Poker Legal Issues